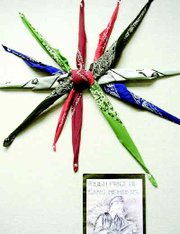 Sunnyside school personnel aren't letting their guard down...in terms of keeping all gang-related clothing and symbols out of local classrooms and off the playgrounds.
Recently, administrators at Chief Kamiakin Elementary School included in their monthly newsletter to parents that all gang-related shirts and clothing were forbidden at the school. The newsletter also warned that any of the students' personal property that were inscribed with numbers or letters associated with gangs would be confiscated.
The warning to parents about keeping gang-related materials out of the school was simply a reminder, says Chief Kamiakin Principal Dr. Carol Clarke. She explained that the issue hasn't become a problem. Rather, administrators are simply trying to keep it from developing into a problem.
"We've seen a couple of things with a few students wearing questionable clothing," said Clarke.
Sunnyside School District security liaison Fidel Partida, who's been at his job for 10 years, agrees with Clarke that gang activity in local schools, including the gang clothing and markings, is not on the rise.
"It's not as bad as it is in the community," said Partida. "In the community it's mostly adults and some kids who have phased out of the schools."
When Partida first began working for the school district, he set a goal for himself to help kids get out of gangs.
"We hit it hard," he said, explaining that school personnel, the local police department, counselors, juvenile probation officers and mental health workers worked together to curb gang activity.
Partida said compared to what used to be confiscated years ago, the amount of inappropriate clothing, let alone weapons, taken from students today is next to nothing. In the past, he said, it wasn't uncommon to confiscate knives, bats and other miscellaneous weapons. He even remembers a sawed-off shotgun being confiscated.
During the initial phases of the campaign to wipe out all traces of gang activity from the Sunnyside schools, Partida collected what he refers to as his "star of rags," which hung in his office. About four years into the campaign, Partida removed the gang bandannas from his office. Recently, though, he pulled the bandannas out of storage and started displaying them again...as a reminder of the importance of curbing gang activity.
Partida said efforts to diminish gang activity are focused at the schools.
"This is where the recruiting happens," he said. "As long as you keep the recruiting out of the schools, they don't have recruits. They don't have soldiers."
Partida, as well as school district security liaisons Garin Moore and Dan Pacheco, have seen positive results come from their work in Sunnyside. All three men said they have each had young men, former students, return and thank them for their work in the schools.
"We try to work with these kids and help them go to college and have a better life," said Pacheco. "We're kind of like guardian angels for these guys."
Most of the gang members in Sunnyside are between the ages of 11 and 16, according to Moore. "By the time they are 17 or 18, they start getting out of it," Moore added.
All three of the security liaisons say they have seen success with their efforts.
"We try to hit them hard with the message, 'if you want respect gain it through sports and education'," said Pacheco.
Pacheco said he has even offered special incentives for some students, offering to buy them their cap and gown for their high school graduation ceremony.
"I had one individual who was really heavily involved in a gang," said Pacheco. He related that when the student left gangs behind and focused on education, he graduated and enlisted in the U.S. Marine Corps.
"He came back to see me and said, 'I'm giving back to this country'," Pacheco recalled.
Staying vigilant on keeping gang clothing and symbols out of the schools will ensure that even more local children will have brighter futures. Exactly what, you may ask, is not allowed at school in the way of clothing and personal property?
The school district's student resource officer, Jim Rivard, said all Player brand t-shirts and pants are forbidden, as is any gang-related shirts, and any property with gang-related numbers or letters inscribed on it. Rivard says school officials are also concerned when backpacks and notebooks are found that have graffiti-type writing on them. Also banned is clothing that is marked with eight balls, happy/sad masks, known gang brands, the numbers 21, 13 and 14, Roman numerals XXI, XIV and XIII, as well as the lettering LVL, BGL and WSOS.
. Melissa Browning can be contacted at (509) 837-4500, or e-mail her at mbrowning@eaglenewspapers.com