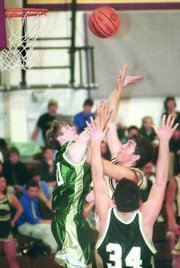 Sunnyside Christian High School Coach Dean Wagenaar, for the first time in his career, decided to take a chance last night and had his Knights play strictly man-to-man defense against DeSales.
Wagenaar said he figured it was a non-league game so he gave his Knights a chance to prove what they could do. It was the first time in his coaching career that Wagenaar decided to play man defense for an entire game.
Sunnyside Christian nearly pulled out last night's game, but came up a bit short in the end, losing to the Irish 57-51.
The end of the game for the Knights came with Sunnyside Christian missing a wide-open 3-pointer trailing 53-51. DeSales then hit a couple of free throws on the ensuing play. With the score 55-51, the Knights missed another shot and DeSales' Cesar Lopez took the rebound and scored the final bucket on a break-away to end the game.
Wagenaar said he believes the Irish would have struggled against any zone defense the Knights might have implemented. But, he opted to let his guys play straight up man as they try to gain some momentum to make a push towards the postseason.
"It is not that we played bad," said Wagenaar. "But for us to win a game, we have to have fewer breakdowns."
Wagenaar said there were some instances when a player would enter the game off the bench and make some careless mistakes, leading to easy points for DeSales.
Sunnyside Christian didn't have the best of shooting nights from the field, going 18-for-49. But the free throw shooting was a lot better for the Knights, who were 8-for-10 from the charity stripe.
Wagenaar said it was a good game to watch last night, as he felt the fans enjoyed the fast pace of the contest. He also felt his team played hard. The difference, though, was the mental lapses that cost his Knights.
Despite the loss, Jordan Haak had a sensational night for Sunnyside Christian with 17 points. Teammate Chad Den Boer dropped in 12 in the losing effort.
The Knights (1-4, 4-9) hit the road again this weekend for games at Klickitat and Lyle.
"Now the boys better start winning some games," said Wagenaar.
. Mike Kantman can be contacted at (509) 837-4500, or email him at mkantman@eaglenewspapers.com
1 2 3 4 T
DeSales 13 17 15 12 57
SCHS 13 11 16 11 51
Scoring: SCHS-Jordan Haak 17, Chad Den Boer 12, Derek DeVries 9, Sean Tudor 6, Andrew Schutt 5, Josh Buescher 2.
DeSales-Cesar Lopez 14.
Rebounds-Jordan Haak 7, Derek DeVries 6, Andrew Schutt 5, Chad Den Boer 4.
Assists: Chad Den Boer 3.
Rod Smith/Daily Sun News
Sunnyside Christian's Derek Van de Graaf battles to put up a shot over a DeSales player last night.