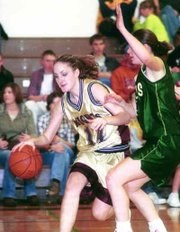 Coming off a three-game winning streak, the Sunnyside Christian High School Lady Knights weren't prepared for what hit them Tuesday night when DeSales High School took the court in Sunnyside.
"They are a very good team," said Sunnyside Christian Coach Al Smeenk. "We worked hard, but we ran into a buzzsaw."
The buzzsaw being the DeSales Lady Irish. Smeenk explained the Walla Walla private Catholic school team had suffered its first loss of the season just the day before facing the Lady Knights.
"We ran into a sleeping giant," Smeenk said.
And that giant would run away with the game, handing the Sunnyside Christian team a 62-36 loss.
Smeenk said offensively the local team struggled, noting that often times it didn't look like the team had an offensive strategy on the court.
"We were putting up shots that are not at all in our offense," Smeenk said.
He said the DeSales team pressed the Lady Knights and created a lot of turnovers. The Sunnyside Christian team ended up coughing away the ball 28 times.
Smeenk said defensively the Lady Knights played man-to-man defense all night, which is different than the zone strategy the team usually uses. Smeenk said he wanted the girls to work hard on their man-to-man skills during the non-league game, and DeSales forced them to do that.
Scoring for the Sunnyside Christian team Tuesday night were Tyssyna Van Wingerden with 12 points, Emma Hernandez with 10 points, both Tori Van Wingerden and Hilary Hughes with 4 points apiece, and Tami Lambrecht, Courtney Rice and Jordi Roberts with 2 points each.
Smeenk said Lambrecht did an excellent job on the court against DeSales, working hard on offense.
"Tami did a real nice job of stepping up on offense," he said.
The Lady Knights (4-1, 7-5) will take to the court again Friday night at Klickitat.
. Elena Olmstead can be contacted at (509) 837-4500, or e-mail her at eolmstead@eaglenewspapers.com
Rod Smith/Daily Sun News
Carly De Groot works her way past a DeSales play in last night's non-league affair.