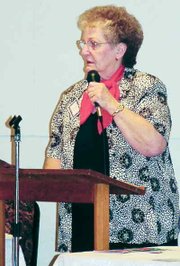 PROSSER - Finding your way from one place to another can be hard sometimes, but finding your way through life can often times prove to be even more difficult.
Phyllis J. Sadler spoke to members of the Lower Valley Christian Women's Club Monday afternoon at the Barn Restaurant in Prosser about how she was able to find her way through life with the help of God.
Sadler said growing up in Spokane with her brother, she never felt a need to have direction. She explained that her parents would let her and her brother go anywhere they wanted to.
Then one summer her parents sent her to California and it was there, at the age of 15, that she met and fell in love with a young Navy man who would, just two weeks after their first meeting, become her husband.
"I fell in love with him on sight," Sadler told the room full of women.
Then almost immediately after getting married, Sadler's new husband was sent overseas and Sadler returned, by herself, to Spokane.
Sadler explained that is was during her summer in California that her parents got divorced.
Sadler said she was only 15 years old and at that point in her life she knew she needed some direction.
"I felt lost," Sadler said.
So she turned her attention to the Lord. She said she can still remember getting down on her knees and praying for Jesus to come into her life. Sadler said it was Jesus who helped point her in the right direction.
When Sadler's husband returned home from Korea, she found that they had to work together to find a direction for their lives. She said with her husband having grown up in the south, one big challenge was cooking for him.
However, over the years the young couple managed to grow together, maturing and raising their children.
Later on in life, Sadler would find herself faced with another challenge. She said one morning she awoke to find she had a serious case of Bell's Palsy. She said she was in a lot of pain and couldn't move one side of her face.
She said when she first went to see doctors about the condition, they told her it could last anywhere from years to days. Sadler said 13 years later she is still dealing with the disease.
"I believe this illness has allowed me to grow," Sadler said.
She explained that since being inflicted with Bell's Palsy she has begun to feel more compassion for other people who have fallen victim to the disease and others like it.
"Jesus Christ has given me compassion for others with inflictions," Sadler said.
She then asked those in the audience if they had ever felt a lack of direction in their lives.
"Maybe you have felt lost and alone," she said. "Maybe you feel you need a road map in your life."
Sadler said one place to turn for direction is to Jesus Christ.
. Elena Olmstead can be contacted at (509) 837-4500, or e-mail her at eolmstead@eaglenewspapers.com
Elena Olmstead/Daily Sun News