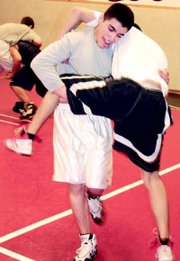 GRANDVIEW - Watching Grandview High School wrestlers practice after school, one would never guess that among the more than 20 athletes is one who is working through a painful disease.
Grandview High School sophomore Michael Benavidez has been living with rheumatoid arthritis since he was diagnosed at age eight. Benavidez said because of the disease there are days when he can't practice and other days when he can't compete.
Elisa Benavidez, Michael's mother, said her son was diagnosed with rheumatoid arthritis after several visits to the doctor as a young boy. She said when Michael was eight, one of his ankles started swelling and hurt to the touch. Elisa said she and her husband, Andy, took Michael to the doctor, who told them it was most likely a spider bite.
However, when their son's ankle continued to swell off and on every few weeks they decided to get a second opinion. She said there were times when Michael's ankles would hurt so badly that his parents couldn't even touch him. The need for a second opinion led the family to Children's Hospital in Seattle, where Michael was diagnosed with rheumatoid arthritis.
Elisa said at the time doctors said the disease is heredity, but could also be from an old sports injury.
However, for Michael, being diagnosed with rheumatoid arthritis at a young age didn't stop him from being an active child.
Instead, he jumped right into wrestling as a fourth grade student. Michael said he started competing in a children's league after his father introduced him to the sport. Elisa said Andy has always been a wrestling fan.
So when Michael, whose older brother Andrew also wrestles, made it to high school, being a member of the wrestling team seemed like a natural thing to do.
"I like the competition, and it keeps it me in shape," Michael said of wrestling.
Although this is Michael's second season with the high school team, it hasn't always been easy for the 140-pound wrestler.
He said there are mornings when he wakes up and his ankles are stiff and painful and he knows he won't be able to practice. He said the pain comes at least once every two weeks.
Grandview High School wrestling coach Jeff Sevigny said Michael missed about half the season last year due to his arthritis flaring up, and so far this year has missed about half of the season.
However, Sevigny said Michael is a hard working member of the team, and has a lot of talent on the mat.
So much talent and dedication that when Michael decided at the beginning of the season that he wasn't going to try out for wrestling this year, Sevigny approached him.
"He's a great kid," Sevigny said.
This season Sevigny said he has made some allowances for Michael. When the other wrestlers are running on the hard gym floor at practice, Michael is using a stationary bicycle, which means less impact on his ankles.
Wrestling isn't the only sport Michael has participated in during his two years in high school. Elisa said as a freshman he also played football. However, on his doctor's recommendation he didn't try out for the football team this year.
"The doctor said it would be easier to do one sport," Michael said.
So he chose wrestling.
Michael said he enjoys the competition that comes with the one-on-one sport. He is 9-8 this season, and likes that it helps keep him in good shape.
Elisa said one difficult thing for Michael over the years has been being able to tell when his rheumatoid arthritis is acting up in his ankles, to the point that he shouldn't be practicing or playing on it.
She said she can now tell, after living with the disease for eight years, when Michael is feeling pain. She said she can often see it in the way he walks.
"Only he knows his pain tolerance," she said, although she noted that it is very high. Elisa noted that if he tells you he is in a lot of pain, his ankles are usually hurting him pretty badly.
Michael said although he is taking medication for his rheumatoid arthritis, there are still days when he can't walk on his ankles. Despite this, Michael said he is planning on continuing wrestling throughout his high school career.
. Elena Olmstead can be contacted at (509) 837-4500, or e-mail her at eolmstead@eaglenewspapers.com