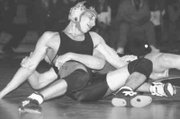 GRANDVIEW - The Sunnyside High School wrestling team recorded its third consecutive Mid-Valley League victory last night at Grandview, but the Greyhounds didn't go quietly.
Sunnyside (3-2) secured a 45-27 victory after the Greyhounds gave up a forfeit at 171 lbs. to Joe Evans and a pin to Carlos Padilla-Garza at 189 lbs.
Paulus said last night's match was a bit closer than he wanted it to be, but added he had to make some line-up adjustments.
His Greyhound counterpart wasn't all that displeased with the results, either.
"I thought we did well," said Grandview Coach Jeff Sevigny. "I was pleased with the overall effort. I don't think Sunnyside expected it."
Grandview (0-6) ends its Mid-Valley League season at home against Wapato next Thursday. One of the two teams will record their first league win.
Sunnyside's Gabe Lara kicked the evening off with a victory over Junior Pina at 3:26 in the 215 lb. match. Paulus said Lara was handily ahead at the time of the pin.
Greyhound heavyweight Andrew Morales turned the tables, winning a huge decision over Pete Garza, 7-2.
"It was a good win for him," said Sevigny.
Paulus said Garza made a mistake in the second round and gave up a number of back points, which proved to be the difference.
Sunnyside's Ricardo Rivera won by forfeit at 103 lbs., but the 'Hounds rebounded quickly again.
Alex Valencia ran into one of Grandview's best wrestlers, Nestor Soriano, at 112 lbs., losing by fall in 3:02. Sevigny said Soriano wrestled well and kind of woke up after being taken down in the opening period. Paulus wasn't too displeased with the effort of Valencia against one of the Greyhounds' better wrestlers.
"He is tough," said Paulus of Soriano. "Alex gave him all he wanted."
Sunnyside rallied, though, with two straight wins.
Michael Christensen continued his recent impressive win streak last night at 119 lbs. with a pin of Grandview's Kaelan Nelson in 2:47. Paulus said he continues to be impressed with Christensen, who has been wrestling well lately.
In the 125 lb. match, Sunnyside's Greg Burbidge scored an impressive technical fall victory, 16-0, in the second round over Max Saldana.
Shay Seimears countered with a 12-11 overtime decision at 130 lbs. over Sunnyside's Eric Garcia.
"It came down to the end," said Paulus.
Sevigny felt Seimears did well in his match last night, getting the job done when he needed to.
The 'Hounds made it two consecutive wins when another of Grandview's top wrestlers, Brian Naylor, pinned Omar Magana in 3:24 at 135 lbs. Naylor had been sick the last couple of weeks.
"Brian wrestled real tough," said Sevigny.
The Grizzlies weren't about to fold up their tent, though. At 140 lbs., Sunnyside's Rudy Martinez continued his winning ways, taking a 12-3 major decision over Grandview's Michael Benavidez.
Ray Romero then strengthened Sunnyside's advantage in the match, and moved to 22-1 on the season at 145 lbs. The Grizzly grappler defeated Jesus Soto in 3:14.
"Ray looked good," said Paulus.
"Ray is one of the best around," said Sevigny. "Jesus was wrestling tough. He didn't go out there and give up."
At 152 lbs., Grandview's Tovias Magana won his match by fall in 2:57 over Michael Graham.
"I didn't expect that," admitted Paulus.
Paulus said he was expecting the match to be tough, but felt Graham could have won in the end.
The 'Hounds got to within striking distance when Sunnyside dropped another heartbreaker at 160 lbs. Victor Moreno lost a 10-8 decision to Grandview's Andrew Benavidez. Paulus said he was very pleased with Moreno, who held his own in the match.
Grandview was within 33-27 with two matches to go, but Sevigny decided to forfeit the 171 lb. match to Joe Evans.
"Evans is just too tough," said Sevigny.
Instead, Sevigny bumped Rigo Rodriguez up to 189 lbs. to face Sunnyside's Carlos Padilla-Garza. In what both coaches said was a good match, Padilla-Garza caught Rodriguez and put him to the mat for the pin in 5:37.
The Grizzlies will play host to two 4A schools this weekend. Sunnyside will wrestle Davis at home beginning at 10 a.m. The Grizzlies will follow that up by meeting Eisenhower at 12:30 p.m.
. Mike Kantman can be contacted at (509) 837-4500, or email him at mkantman@eaglenewspapers.com