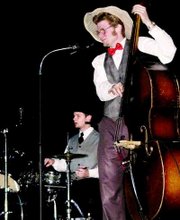 The chairperson of the fifth annual Hospice Talent Show knows first-hand how Hospice can help a family.
"My two grandpas both had cancer and Hospice did wonders for my family," said Chelsea Durfey, talent show chairperson.
The Sunnyside High School junior is in the midst of planning for the coming talent show, which is scheduled for Friday, March 12, at 7 p.m. at the Sunnyside High School auditorium. Money raised in the talent show will benefit Lower Valley Hospice.
She got involved in the talent show last year, helping chairman Jordan Visser in the planning process.
The Hospice Talent Show is a project sponsored by the Sunnyside High School leadership class.
"Five years ago there were some people in the leadership class who thought we should do a service project," said Durfey.
With the birth of the talent show has come a way for youths 12 to 19 to show off their talents and also a way to give back to Hospice, according to Durfey.
This year, she said the leadership class has been very helpful in planning the talent show. Durfey said members of the class have sought out donations and helped promote the event.
The talent show is open to students ages 12 to 19 from as far away as Yakima and the Tri-Cities.
"We are trying to get more participants this year," said Durfey.
She is encouraging people to start practicing for the audition, which will be Saturday, March 6, from 2:30 to 4:30 p.m.
"We want a variety of talents," said Durfey. "It would be great to see juggling, dancing, singing, gymnastics and art. It will make it more interesting."
There is a $10 auditioning fee for those interested in participating in the show.
Currently, members of the leadership class are looking for donations of prizes to be raffled off at the talent show and also for cash donations that can be used as prizes for the talent show winners.
Durfey said they plan to present awards to the top three finishers in the talent show.
"We're looking to raise the most money possible for Hospice," said Durfey. "We think the talent show will be a great way to help Hospice and draw people in our community together."
Tickets for the talent show will be available at the door on the day of the event.
Anyone wanting to donate to the talent show can contact Durfey, 837-4428.
. Melissa Browning can be contacted at (509) 837-4500, or e-mail mbrowning@eaglenewspapers.com