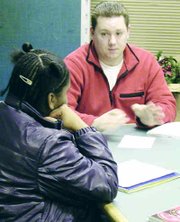 Sunnyside firefighter Josh Roe knows first-hand how important a cadet program can be to a community.
A former fire cadet himself, Roe got his first taste of what it means to be in the fire prevention service as a high school student. After he graduated from the cadet program he became a volunteer firefighter and now he is a full-time firefighter/paramedic for the Sunnyside Fire Department.
While a cadet, his passion for the fire service developed and he now is a career member of the local fire department.
Wanting to provide local students with the same opportunities, Roe is starting the Sunnyside Fire Department cadet program.
Currently, Roe is taking applications from those interested in participating in the cadet program, which he said is much like the Sunnyside Police Department's Explorer program.
The fire cadet program is open to high school students 16 and older who attend school in Sunnyside.
The program is limited to six cadets, said Roe.
The program, he said, is a good way to develop and grow the volunteer fire department.
"It's a great way for students to learn if they want to pursue a career in the fire service," said Roe.
He added that the cadet program is designed to give students an in-depth look at being a firefighter before they have to make final career decisions.
Cadets will not be participating in live fire training or in a capacity that will take them into burning buildings, said Roe. Rather, cadets will provide support service for the fire department and help with clean-up. Currently, volunteer firefighters are providing the support, said Roe. The cadets will free them up for more active roles on a fire scene.
Cadets will also be participating in Sunnyside Fire Department trainings at the fire station twice a month. The first thing the cadets will learn will be basic life-saving skills. They will be trained in first aid and CPR, said Roe. In March, they will have hands-on fire training, he added.
Cadet applications are available at the Sunnyside Fire Department. Roe has also visited PRIDE High School, Sunnyside Christian High School and Sunnyside High School to drum up interest in the program.
"I have given out many applications," said Roe.
So far he has received three back. The applications can be returned to the Sunnyside Fire Department. They are due Feb. 1.
Applicants will go through a process similar to the firefighter hiring process, according to Roe.
Students will be required to complete a physical agility test, and they will undergo an oral board and a chief's interview.
"We hope to have the students selected by Feb. 13," Roe added.
Roe's vision for the group is that it would be self-sustaining.
So far, the cadet program has received donations from several groups in Sunnyside, including the Sunnyside Kiwanis Club. Roe said the funds he has collected will be used to pay for a fund-raiser for the cadets. He said the cadets will be making and selling posts with numbers on them that can be placed near the road so that fire personnel can more easily find residences in case of emergency.
. Melissa Browning can be contacted at (509) 837-4500, or e-mail mbrowning@eaglenewspapers.com