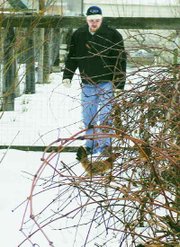 Those who think of local animal control officer Vaughn Merry as simply a dog catcher don't know just how wrong they are. In fact, people living in the 1200 block of East Kearney Avenue found out Thursday afternoon just how wrong that train of thought can be, as they watched Merry from their picture windows track a chicken from one back yard to another.
Merry did admit that the chicken hunt he was led on Thursday was the exception to the rule. Typically, the Humane Society animal control officer deals with cats and dogs. Although he did mention having to chase a steer through Sunnyside this past summer.
"The cow was mad," Merry said, noting that during the animal's rampage through the city it charged a vehicle on Parkland Drive, took out a porch and a fence and rammed into his vehicle.
He said it took two cowboys from a local ranch to finally collect the animal and get it put into a trailer for transport.
However, not every day is as exciting as that one. Merry said he typically comes in contact with 10 to 15 animals a day, although he noted that during the summer that number is a little higher. Merry said he has found since taking the position last July that there seems to be more animals to deal with at the beginning of the week, than at the end.
Merry said a majority of the calls he responds to in Sunnyside are animal nuisance calls or reports of dogs at large. He said it is also not unusual for him to receive calls from the local schools asking him to come and pick up a dog that may have followed a boy or girl to school that day. He said when this happens he typically talks to the child, finds out where they live, then delivers the animal back to its home.
When not responding to calls, Merry patrols local neighborhoods looking for loose animals roaming from one place to another. Merry said when he finds a loose animal he will try to follow it back to its home, if it has one. When he finds out where the animal lives he talks to the dog's owner, issues them a warning and advises them to get their dog licensed.
Merry said it's important that animals are licensed and tagged. He explained that if he picks up an animal with a tag that denotes where it lives, he will return the animal directly to its owner as opposed to hauling it to the Humane Society in Yakima.
Having identification on an animal also prolongs the amount of time it will be held at the shelter before it is put up for adoption.
Patsy Dye, Humane Society of Central Washington shelter manager, said if an animal is picked up without any tags it is held for 48 hours before being put up for adoption. However, if there is a tag, or any identification on the animal at all, its owners are given five days to claim the animal before it is put up for adoption.
Merry said being an animal person himself, it is difficult for him not to adopt each of the animals he picks up. However, he said after the first few months of working for the Humane Society, and after adopting several animals, he came to an important realization. He said he realizes now that he can see the animals every day at the shelter, and if an animal is adopted it means they are going to a loving home.
Dye explained that animals aren't just adopted out to anyone. She said a family has to come in and fill out a questionnaire, then Humane Society staff members decide, by looking at the questionnaire, whether or not the family is a good match for the animal they have picked out to adopt.
She said if everything checks out, then the animal is sent to a veterinarian, where it is spayed or neutered, and the family is then able to pick up the animal the next day.
The cost to adopt a pet is $70 for dogs and $65 for cats, which includes the cost of the animal's first shots and the spaying or neutering.
Merry, who serves as the animal control officer for Sunnyside and Toppenish, said the contract between the Humane Society and the City of Sunnyside is for the control of cats and dogs in the city limits. He explained that he regularly catches dogs, however the only way he is allowed to catch a cat is using a trap.
He said he has two cat traps he checks out to people who are having problems with the animals. He then collects the cats in the traps.
However, Merry said if the cats collected are feral they ultimately have to be put down, with other friendlier cats going through the same process dogs do, which includes being adopted.
As for dogs, Merry said they are only euthanized as a last resort, if the animal is in bad health and won't survive.
According to a report from the Humane Society recently presented to the Sunnyside City Council, in 2003, the Humane Society housed more than 11,000 animals, including 504 from Sunnyside. Of those, 290 were dogs, of which 132 were euthanized. There were also 178 cats picked up in Sunnyside, of which 125 had to be put down.
Euthanizing animals is one of the things Merry doesn't enjoy about his position. Another responsibility Merry has that isn't too pleasant, is picking up dead animals off the road.
Merry said overall he enjoys the time he gets to spend in Sunnyside, which averages out to about 20 hours a week. Merry explained that when he isn't in town, people can still get their animal problems taken care of. He said if someone calls in a report of animals at large, he will typically wait until he is back in town to take care of the problem. However, if it's something along the lines of a vicious dog, there is always an animal control officer on call who will be dispatched to take care of the problem.
Merry said there are several ways to go about collecting animals he needs to pick up. If the animal is vicious, he uses an apparatus called a catch pole, which is a long metal pole with a cable running through it. The cable is used to get ahold of the dog, without having to get too close to it. If an animal is trying to run away from the animal control officer, Merry said he uses something called a snappy snare, which is a net-like object, that helps restrain the animal.
However, Merry said often times catching an animal is a lot easier than that. He said if it's a friendly animal all he usually has to do is call out to it and it will come running.
"If it's friendly, I'll just pick it up and put it in the truck," Merry said.
. Elena Olmstead can be contacted at (509) 837-4500, or e-mail her at eolmstead@eaglenewspapers.com