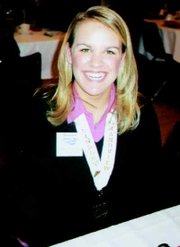 PULLMAN - Grandview Junior Miss Linsley Grow was among 33 teens competing for the title of Washington's Junior Miss 2004.
The program took place Thursday, Friday and Saturday in Pullman at the Gladdish Community Center, where the 33 Junior Miss girls from throughout the state represented their communities in the categories of talent, fitness, poise, scholastics and interview.
Grow arrived in Pullman Jan. 18, to begin preparing for the three-night program, which took place Jan. 22-24. Grow said the first few days of practice focused on the physical fitness routine, with the girls being introduced to the poise routine late Tuesday.
"It was a nice break from fitness," Grow said.
She said when she wasn't practicing during the week, the group of 33 girls attended various luncheons with different civic groups from the local Rotary club to the Pullman Chamber of Commerce.
Grow said the girls also took time to present a skit to a local elementary school in Pullman. She said the theme of the skit was the importance of being your best self.
Grow said her experience at state was a good one, and said she learned during her time in Pullman about the other Junior Miss programs in the state.
She said it was interesting talking to the other Junior Miss girls to find out when their programs are and what they do throughout the year as their community's Junior Miss.
"It was neat to hear about their programs," Grow said.
She said it was also fun to see the other girls' talents. Grow, who preformed a tap dance, said a lot of the girls at state were from really small towns, ranging from St. John-Endicott to Mattawa, and it was great to see such talented girls from such small towns.
"I realized that Grandview isn't as small as I think it is," Grow said.
Through her experience at state, Grow said she made a lot of new friends, and got to talk to a lot of difference people.
"It was a great experience," Grow said.
Cara Rudd, Federal Way's Junior Miss, walked away with the title of 2004 Washington Junior Miss. Rudd will now move onto to the national program, which takes place in Alabama, where she will compete for the title of America's Junior Miss.
. Elena Olmstead can be contacted at (509) 837-4500, or e-mail her at eolmstead@eaglenewspapers.com