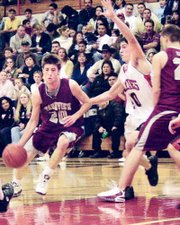 This past Saturday night's game at home between Sunnyside and the visiting Grandview High School boys basketball team boiled down to composure.
A prime example of the reason for the outcome of the game, which ended with the Greyhounds winning 57-47, could be traced back to the end of the first half. With 45 seconds left on the clock, Sunnyside's Cody Heckert held for the last shot of the half. Grandview didn't lose control or even try to pressure Heckert. When Heckert drained the 3-pointer right at the buzzer to pull the Grizzlies within seven, the Greyhounds didn't make a fuss, simply walking off the court.
"We try to teach the kids to stay calm, things aren't always going to go your way," said Grandview Coach Scott Parrish. "We try to teach them to wait and be patient. It will turn around."
Sunnyside Coach Steve Urrutia said it's not surprising that Grandview currently is holding down the No. 2 spot in the Mid-Valley 'AAA' League standings.
"Grandview is very tough," he said. "Basically, they used just seven kids against us.
"But, I give our kids some credit. For much of the game Grandview kept a 10 or 12-point lead on us. But we didn't go away," he said.
The Grizzlies missed some golden opportunities in the third quarter to cut into the lead on the Greyhounds. Sunnyside was getting the defensive stops against the Greyhounds in the third quarter, as Sunnyside's Jake Thomas was clogging up the middle of the paint for the Grizzlies. Thomas finished with five blocked shots. Sunnyside, though, for some reason couldn't hold on to the ball at the other end of the floor. The Grizzlies on numerous occasions carelessly threw the ball away. Sunnyside had 18 turnovers for the game, and many of them came during that particular stretch in the third quarter.
Turnovers proved to be the difference in a tightly contested statistical game. The Greyhounds turned Sunnyside's 18 turnovers into 20 points. The Grizzlies managed just 8 points off 13 Grandview turnovers.
In fact, the Grizzlies gave the 'Hounds a bit of a scare early on in the fourth quarter, cutting Grandview's lead to just three.
"But a couple of quick turnovers on our part and a couple of 3's by Grandview...it kind of did us in," said Urrutia.
"I was happy the kids kept battling," said Parrish. "I was real happy with our defense."
In the losing effort, 6'0" junior Cody Heckert led Sunnyside in the scoring column. Heckert dropped in 15 points on 5-of-10 field goal shooting, which included knocking down 2-of-5 shots from behind the 3-point arc. Sunnyside's 6'6" post, Jake Thomas, added a 12-point effort for the Grizzlies on a 5-for-14 shooting night. Junior Reid Schilperoort and senior Jessie Ramirez chipped in 8 and 6 points, respectively.
The 6'3" Schilperoort also had a team high seven rebounds for the Grizzlies.
Parrish said he went into the game not wanting Thomas to cut loose with his offensive skills. Although, the Grizzly junior caused problems defensively in the lanes for Grandview, Parrish felt his team did a nice job on Thomas. Parrish was also worried about Jessie Ramirez getting a hot hand, but added he was pleased with the way Grandview held him in check.
One player that did get the attention of Parrish was Pete Marquez, who went to battle with Greyhound sophomore standout Anthony Andrews.
"Marquez did a good job running through screens to stay with Andrew," said Parrish.
Andrews had a game-high 20 points. Andrews finished 4-of-6 from 3-point range, scoring 12 of his 20 points in the first quarter.
"He has been doing real well," said Parrish of Andrews. "I have been real proud of him."
1 2 3 4 T
Grandview 13 17 9 18 57
Sunnyside 6 17 9 15 47
Scoring: Grandview-Anthony Andrews 20, Chris Mejia 14, Cordero Cisneros 5, James Vela 5, Aaron Gonzalez 5, Gabe Reyes 4, Blake McFerran 4.
Sunnyside-Cody Heckert 15, Jake Thomas 12, Reid Schilperoort 8, Jessie Ramirez 6, Noe Zamarron 3, Pete Marquez 2. Kyle Van de Graaf 1.
Rebounds: Grandview-James Vela 7.
Sunnyside-Reid Schilperoort 7.
Assists: Grandview-Blake McFerran 8.
Sunnyside-Cody Heckert 3, Jessie Ramirez 3.
Steals: Grandview-Chris Mejia 5.