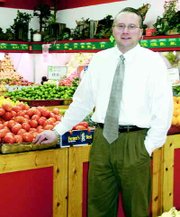 GRANDVIEW - Working in a grocery store is something Grandview Market Place Manager John Zites has been doing since the age of 16. He said he enjoys the people, the atmosphere and the service.
Zites has been managing the Grandview grocery store at 206 Euclid Rd. for just under three weeks, and said he is happy to be working in the grocery business.
Zites, who started his career working at Buttrey's Food and Drug in Yakima, has worked in a variety of different capacities in the grocery industry, including working as assistant manager at both Top Food and Drug, and Ray's Chalet Thriftway in Yakima.
However, a few years ago Zites said he decided to get out of the grocery business and give something else a try. So Zites went to work as a driver for Snyders Bakery.
"I wanted to try something different, so I went to Snyders," Zites said. Ultimately, he found out that the job wasn't quite for him.
"I enjoy grocery stores and working with the public," Zites said.
As for how he came to work in Grandview, Zites said he found himself talking to Grandview Market Place owner Mike Hammond, who told Zites that he might have an opening for him.
Zites said working in a grocery store allows him to work with employees, the public and to get involved with the community.
"I just enjoy it," he said.
Zites said he is hoping to get the store more involved in various elements of the community. He said he would like to see Grandview Market Place, which employs approximately 25 people, get more involved with local schools, as well as purchase more of its produce from local growers.
"There's a lot of quality fruit right here," he said.
Zites said internally he would like to see the store do more with its tortilleria, as well as hold a lot of sidewalk sales in the spring.
Zites, who lives in Yakima, said he is excited to be working in the Lower Valley.
"It's a great community," he said. "We have great customers."
. Elena Olmstead can be contacted at (509) 837-4500, or e-mail her at eolmstead@eaglenewspapers.com