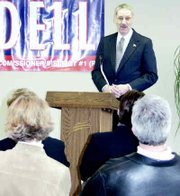 YAKIMA - The race is on for the position of Yakima County Commissioner, district one. Tuesday afternoon Peter Dell, owner of Peter Dell Custom Remodeling, Inc. in Yakima, announced his candidacy for the position.
"I love the county and I love Yakima. It's a great place," Dell said Tuesday during a press conference held at the Yakima Area Arboretum.
Dell is the first person to announce his candidacy for the position currently held by Jim Lewis.
"I am a great listener and that quality has played a big part in my success as a businessman. It will also make me a good commissioner," Dell said.
During his presentation, Dell said there are five areas he would like to see improvements made in the county.
He said first, he would like to see the county take a more business-like approach to things.
"We have to develop a customer friendly attitude in every department dealing with the public," Dell said.
He said he also feels it's necessary to build accountability in every department in the county, as well as to spend within the county's current revenue.
"I'm not interested in raising taxes," Dell said.
Something Dell is interested in raising, is the level of cooperation at the county level. "My belief is that we must have cooperation," he said.
That cooperation, Dell said, should be felt in relationships the county has with every town and city within its boundaries, as well as with local legislators.
Dell said he also feels its important for the county to establish a business plan, which would include making the permitting process more "user friendly," as well as streamlining the development process.
Along those same lines, Dell said he would also like the county to pay more attention to the local agricultural economy, noting that it's important for the county to make the development of the agricultural industry easier.
The final topic Dell said he feels the county should be looking to tackle is cutting crime.
"We need to allow the sheriffs and the deputies to do their work," he said.
Dell then tackled the issue of the Yakima County Justice Center, currently set to be built on property near the fairgrounds in Yakima.
Dell said he is very disappointed in the way the county has taken care of the siting of the jail, including the purchase of property without water rights in the Toppenish area.
In fact, Dell said he does not agree with Yakima County being in the jail business. However, now that the county is in the jail business, Dell said he believes the fairgrounds site is the perfect location for the new facility.
He said the jail will be a boon to the economy.
. Elena Olmstead can be contacted at (509) 837-4500, or e-mail her at eolmstead@eaglenewspapers.com