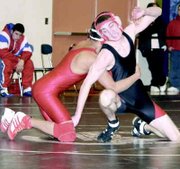 The final home meet of the year for the Sunnyside High School wrestling team against Prosser was rather anti-climatic.
The Grizzlies claimed a 43-28 victory over the Mustangs to move to 4-2 on the season.
"Their guys won the matches they were expected to and our guys won the ones they were expected to," said Sunnyside Coach George Paulus. "We did pretty well. The guys wrestled tough."
The Mustangs forfeited at 189 and 275 lbs, giving up 12 points to the Grizzlies.
The evening started off at 160 lbs., as Sunnyside's Victor Moreno met up with Prosser's Ivan Merino. Despite losing 5-2 to Merino, the Sunnyside grappler had his shots at upending one of the Mustangs' best wrestlers. The match got away from Moreno when he gave up a penalty point and a reversal in the second period to fall behind 5-1.
"I don't think he ever got on track," said Paulus of Moreno.
Paulus said Moreno matched up well with the Prosser grappler, but just couldn't get in the right position.
Joe Evans put on another show at 171 lbs. for Grizzly fans. Evans recorded a 23-7 technical fall over Prosser's Anthony Cruz with 44 seconds left in the match. The only points that Evans didn't give up voluntarily was a reversal in the second round. The rest of the points were escapes that Evans allowed. Evans led 13-4 at the end of the second period.
Gabe Lara looked solid in his 215 lb. match against Prosser's Chris Shepherd, winning by fall in 3:12.
At 103 lbs., Sunnyside's Ricardo Rivera pinned another freshman, Prosser's Eddie Pedroza, in 1:04.
At 112 lbs., Sunnyside's Steve Sanchez looked dominating in his first outing of the season. Sanchez manhandled Prosser's Casey Brodie on his way to a win by fall in 3:41.
"I am glad to have him back," said Paulus of Sanchez. "He is a talented, little wrestler."
At 119 lbs. the Mustangs began making some noise.
Prosser's Mauricio Jaimez pinned Michael Christensen in 4:27 of their 119-lb. bout.
Sunnyside's Greg Burbidge drew the Mustangs' best wrestler, Manuel Plata. Despite putting forth a good effort in their 125-lb. match, Plata bested Burbidge, taking the fall in 3:12.
"Greg got himself into some positioning problems," said Paulus. "Which the good wrestlers like Plata tend to make you do."
Prosser's Johnny Hurtado won an 18-7 major decision over Sunnyside's Eric Garcia in what was a good 130-lb. bout.
Prosser pulled within striking distance of Sunnyside after Leon Stafford won his 135-lb. match with Omar Magana by pin in 5:45. The Mustangs trailed 35-25.
Rudy Martinez (22-8) put the meet away for the Grizzlies with his 10-3 victory over Prosser's Rudy Hurtado at 140 lbs.
"That kid (Hurtado) is pretty skilled," said Paulus. "Rudy wrestled a pretty solid match. He got out there and did the job."
The win by Martinez at 140 lbs. put the match out of arm's length for the Mustangs. Sunnyside led 38-25 at that point.
Ray Romero dominated Prosser's Tyler Leighty at 145 lbs., winning by technical fall, 18-3, with 1:11 left in the second period.
Michael Graham lost to Prosser's Tony McCorkindale 16-9 at 152 lbs. to end the night.
Sunnyside will be looking to win its ninth straight match of the season this Thursday at Selah in the Mid-Valley League finale. Paulus said Thursday night's match will feature some key pairings vying for seeding into Sub-regionals. One of the premier matches of the night, said Paulus, should be Evans and Selah's Kyle Walker at 171 lbs.
. Mike Kantman can be contacted at (509) 837-4500, or email him at mkantman@eaglenewspapers.com