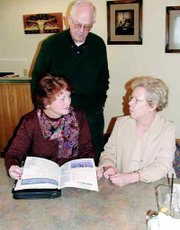 The recent loss of nearly 400 jobs in Yakima has not discouraged Yakima County economic development leaders.
"We're already hearing from other companies wishing to locate here," said Dave McFadden, president of New Vision, Yakima County's economic development association.
McFadden, speaking to a group of potential New Vision investors in Sunnyside yesterday, said the loss of nearly 400 jobs from the Client/Logic calling center's decision to leave the area, coupled by the recent sale of the Boise Cascade mill in Yakima and a possible loss of another 100 jobs, will hurt the county, but only for a short time.
"We are still in a fairly stable economy," he said.
But to maintain that stability more needs to be done and the support of the private sector is what will make that happen, he said.
New Vision, a county agency which recruits new businesses to the area while helping local businesses to expand, has a great track record, say supporters. And they have the numbers to back them up.
In the past five years, New Vision, in partnership with the county, and state and local government and business leaders, has been successful in adding $169 million to the county that wasn't here before, McFadden said.
For the businesses and individuals who have invested in the county's economic development, McFadden said that translates into the creation of $89 for every $1 invested.
"But we can't rest on our laurels," he told a group of businessmen, who attended a fund-raising luncheon at Snipes Restaurant in Sunnyside Tuesday afternoon.
New Vision's board of directors is now seeking an investment of $1.6 million by local businesses, a number the board anticipates will translate into $187 million in business activities and the potential of 2,042 new jobs in the county.
New Vision recently completed a five-year funding cycle which achieved three important benchmarks, said McFadden.
During that period, New Vision has played a part in the creation of more than 1,600 new jobs created by companies receiving New Vision assistance.
In addition, $22 million of public and private capital was used to support the development of such projects as the expansion of CanAm in Sunnyside, as well as the construction of Johnson Fruit and the Wal-Mart distribution center in Grandview.
The accomplishments of the past five years also includes helping new businesses and existing businesses receive more than $42.3 million in tax credits and training funds to further enhance county employment opportunities.
"We are now talking with businesses leaders seeking support of countywide economic development. We are asking for investors to join us in supporting the next five years of progress," explained Bill Wheeler, who is one of the members of the 20004-2008 campaign.
"We've raised our benchmarks for the next five years by 20 percent," said Wheeler, who is encouraging both small businesses and large corporations to see the value of supporting New Vision's goals.
The first of New Vision's new benchmarks will be an effort to provide assistance to businesses, who in turn are expected to create an additional 1,200 jobs from private expansion. In turn, an additional 842 jobs will be created as a result of expansion in the service industries in the county, say New Vision leaders.
New Vision will endeavor to package $20 million of public and private capital on behalf of local expanding firms; and thirdly, the agency will help companies access $2 million worth of special tax credits, customized workforce training funds or other specialized resources.
Wheeler said New Vision seeks the commitment of area investors to raise the initial $1.6 million to carry out New Vision's 2004-2008 strategic plan.
"We are serious about improving the economy of Yakima County," he told the would-be investors.
The New Vision campaign, which got underway several weeks ago in the upper Yakima Valley, has already attracted the support of 130 investors, some who were past investors, Wheeler said. He said the agency is seeking the commitment of 200 investors.
To date, nearly $1 million in pledges has already been raised, Wheeler said.
McFadden said even as Client/Logic was closing its doors in Yakima, other backroom calling operations were seeking information about Yakima County as a possible business site. He said a trip to a California trade show also sparked some interest in the Yakima Valley as an expansion site.
He praised the efforts of groups such as the cities and port districts of Sunnyside and Grandview for having done a fine job of attracting new business to the Lower Valley.
McFadden said the pending opening of the Wal-Mart distribution center in Grandview will create a major boom in the county's economy.
. Julia Hart can be contacted at
(509) 837-4500, or you can e-mail her at jhart@eaglenewspapers.com