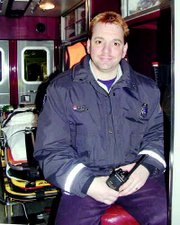 Although Dennis Blumer was three years old when his grandmother died, he followed in her footsteps.
"My grandma was a nurse during (and before) World War II," said Blumer. "She worked out of a hospital with an ambulance."
During her shifts at the hospital calls for service would come in and she would ride to accident scenes in the back of the ambulance, said the Pasco native.
Nurses like Blumer's grandmother used to ride in ambulances, and it wasn't until the early 1970s that paramedics were used to respond to aid calls and accidents in the United States.
Blumer's family history did help guide his path to become a paramedic and firefighter, but he added as a kid he used to watch the television show "Emergency 51," which also piqued his interest in the mobile emergency medical care service.
"I always wanted to help people," said the former Boy Scout, who first learned CPR and first aid as a Scout.
Blumer started his career in 1983 with Franklin County Fire District #3 as a firefighter and emergency medical technician. He also became a trained paramedic. After working for both the fire district and a private ambulance service, Blumer was able to blend his skills in qualifying for his current position with the Sunnyside Fire Department.
Blumer, 39, moved to Sunnyside in 1996 after being hired by the Sunnyside Fire Department as a firefighter/paramedic.
Having the same person trained as both a firefighter and a paramedic is a great way for the public to get the best emergency care available, said Blumer.
He explained that fire/emergency personnel are first at the scenes of accidents and fires and having a paramedic on scene means that those who are injured can receive help immediately. In some cases, since paramedics are able to administer drugs on site, victims can receive immediate treatment.
Besides working full-time for the Sunnyside Fire Department, Blumer also teaches emergency medical technician classes outside the department.
He also enjoys traveling. Blumer and his wife, Teresa, recently returned from a cross country train trip, which included a trek through the snowy wilderness of Glacier National Park.
"It was beautiful. The train goes though the park in the morning," he said.
Blumer also enjoys automobile restoration. He restored his father's pick-up. In addition, he raises Dauschunds.
. Melissa Browning can be contacted at (509) 837-4500, or e-mail mbrowning@eaglenewspapers.com