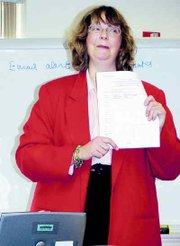 YAKIMA - The month of January has flown by and when February begins in just a few days people in the agricultural industry are going to have a new regulation with which to contend.
Beginning Feb. 1, growers will have to begin following the cholinesterase monitoring rule. The rule, being implemented by the Department of Labor and Industries, requires growers to offer regular blood test monitoring to employees who spend time handling certain pesticides.
As part of the implementation process L&I has been hosting a number of workshops on the new regulation. Ann Byar with L&I held a workshop Wednesday afternoon in Yakima. It was the second workshop of its kind held in Yakima this month.
The rule is something L&I was directed to initiate through a court case, titled the Rios decision, which took place in 2002.
What the rule requires growers to monitor is the cholinesterase level of workers who regularly handle pesticides. Byar explained that cholinesterase is a chemical in a person's nervous system. She said what cholinesterase does is remove the transmitter at the end of a nerve, ensuring it is ready for the next signal to move from one nerve ending to another.
Byar told those in attendance there are two categories of substances that can affect cholinesterase levels in the body. Those two categories are organophosphates and N-methylcarbamates. She said exposure to a substance that falls into either of these categories can decrease a person's level of cholinesterase, and lead to symptoms ranging from headaches and dizziness to diarrhea, convulsions and comas.
According to the information presented by Byar, a person's cholinesterase levels can return to normal on their own, with the most common treatment for decreased levels being removal from exposure to the substance causing the drop.
The new rule is set up to cover those workers who handle pesticides that fall in the two categories. The pesticides include Guthion, Imidan, Mocap, Sevin and Lannate. L&I has a full list of the pesticides that are affected by the rule, on its website.
Byar said in 2004, "employees who handle the covered pesticides for more than 50 hours in any consecutive 30-day period" are covered by the monitoring rule. She said the rule requires growers to offer blood test monitoring to workers who fit this description.
Byar explained to the growers at Wednesday's meeting that the mandatory portion of the rule is that the grower has to offer the employee the testing, however the employee doesn't necessarily have to agree to take part in the monitoring. She explained that if an employee decides not to take part in the program they are required to visit a doctor, which is where they will have to sign a form noting that they were offered the blood test monitoring but declined it.
Those workers who opt to take part in the monitoring program first have to have a baseline blood test taken, which acts as the constant. The baseline blood test is what other blood tests will be compared to for that person in order to determine if they have decreased cholinesterase levels.
Once an employee agrees to take part in the monitoring and a baseline reading has been taken, the worker has to have blood drawn either every 30 days or within three days of meeting the handling hours threshold of 50 hours in any 30-day period.
Other than ensuring employees are getting proper blood tests, which are provided by the employer, a grower must also keep detailed handling records noting how long a person is exposed to the pesticides in question. This determines when a person needs to go in for blood test monitoring.
For more information on cholinesterase monitoring and how to adhere to the new rule visit the L&I website at www.lni.wa.gov.
. Elena Olmstead can be contacted at (509) 837-4500, or e-mail her at eolmstead@eaglenewspapers.com