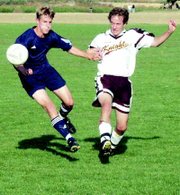 Sunnyside Christian High School senior David Elerding has been selected to tour in Australia this coming summer with a national soccer team.
Elerding will be joining a team of Sports Tours USA athletes competing in Australia in July 2004.
Sports Tours USA is one of the nation's leading providers of international athletic experiences. Founded in 1984 by a group of coaches dedicated to helping the nation's youths exceed their potential in sports and in life, Sports Tours USA offers 11 different sports to 10 different destinations.
As part of his commitment to the national soccer team, Elerding is responsible for raising about $3,500 to help cover his travel expenses. The teen said he has tentatively planned to hold two car wash fund-raisers in May, and that between now and then he is taking on jobs at Sunnyside homes and businesses.
"Anyone who would like some yard work done, babysitting, or any kind of odd job done around their home or business, they can call me at my home in Prosser at 786-1185," Elerding said.
The Sunnyside Christian High School soccer standout had to pass two separate screening criteria before being considered for the national touring team roster. He has committed himself to dedicating the months prior to his trip to getting in the best shape possible.
While competing in Australia, Elerding will also be learning about the local culture and meeting individuals from around the globe. He will also have the opportunity to visit historical sights and local attractions.