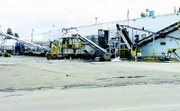 GRANDVIEW - Driving past the Grandview Frozen Foods plant on Grandridge Road in Grandview no one would guess that after less than a year in business, the future of the plant is in question.
Dec. 11, 2003, Willow Wind Organic Farms Inc. and the company's president, Roy Steve Walser, filed for chapter 11 bankruptcy in U.S. Bankruptcy Court in Spokane. Willow Wind Organic Farms is the parent company of Grandview Frozen Foods, which was welcomed into the community during a reception held in front of Grandview City Hall in July 2003.
Plant manager Marlin Crabtree said at this point the plant is continuing operations as usual, with the exception that it is paying all its operating costs and maintenance with CODs. Crabtree said there are currently about 60 people employed at the plant that processes green peas and green beans, noting this is not the plant's busy season. He said the busy season runs from June through October.
However, when it comes to the future of the plant, Crabtree seems uncertain.
"We'll see in a couple of weeks," he said.
According to documents filed with the court, Willow Wind Organic Farms, a Spokane-based company, has a list of 333 creditors. The list includes several Lower Valley businesses, as well as creditors from as far away as Illinois and New Jersey.
According to court documents, to date 35 claims have been filed in the bankruptcy case totaling $745,188, including $238,823 owed to U.S. Bankcorp Equipment Finance Inc. of Portland.
Another creditor listed in the Willow Wind Organic Farms bankruptcy filing is the City of Grandview. Jim Sewell, Grandview city administrator, said Willow Wind Organic Farms owes the city approximately $115,000 for water, sewer and garbage services.
Sewell said in order for Willow Wind to continue operation of its Grandview plant it has to pay the city a deposit each month for the use of city services. Sewell said the company has already paid its first deposit.
Walser's bankruptcy case lists 40 creditors, and, according to court documents there have been six claims filed totaling $934,894. Among those creditors who have filed claims are Cendant Mortgage of Mount Laurel, New Jersey with a claim of $226,762.
Grandview Frozen Foods was the first processing plant operated by Willow Wind Organic Farms, a company that began with an organic farm located just outside of Spokane.
During an interview conducted in July 2003, Walser explained that before moving into the Grandview plant Willow Wind Organic Farms had its products co-packed, which means other plants would take shipments of Willow Wind's product, process it and package it with the Willow Wind label.
At that time, Walser also said opening the Grandview plant would bring the number of people employed by Willow Wind Organic Farms from 15 to 115.
Crabtree said the rebuilding process started at the plant in November 2002, with processing beginning in early June 2003.
When the plant opened, Crabtree said there were plans to put in processing equipment to handle diced carrots and potatoes, on top of the green pea and green bean line the company put in before it started operation. Thursday afternoon, Crabtree said the improvements hadn't happened.
When asked if news of the bankruptcy filing came as a surprise to Crabtree, he noted that "it kind of looked like that could happen."
Sewell said this is not the first time a company occupying the Grandview plant has filed for bankruptcy.
. Elena Olmstead can be contacted at (509) 837-4500, or e-mail her at eolmstead@eaglenewspapers.com