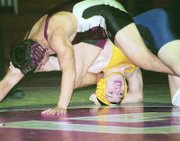 GRANDVIEW - The Grandview High School wrestling team has been competing well in the last few weeks, but has never quite been able to get over the hump. Last night, the Greyhounds cleared that hurdle.
The Greyhounds won their first Mid-Valley League dual match of the year against visiting Wapato last night, 45-26.
"It was a good effort," said Grandview Coach Jeff Sevigny. "Everyone wrestled real hard."
Sevigny said the win gives the Greyhounds some momentum going into next week's Sub-regional tournament at Hanford High School. Sevigny said his wrestlers knew they had been competing well, but to get that first team victory meant a lot.
Things kicked off last night at 140 lbs. with Grandview's Michael Benavidez winning by forfeit.
At 145 lbs., Grandview's Jesus Soto beat Will Badonie 9-3.
Tovias Magana won at 152 lbs., defeating Wapato's Eddie Garza 7-4.
Andrew Benavidez made it three in a row for the Greyhounds with his pin of Wapato's Simon Alaniz in 3:00 at 160 lbs. Sevigny was impressed with Benavidez, who fell behind early in the match.
Rigo Rodriguez won by forfeit for the Greyhounds at 171 lbs.
Wapato's Art Weaver picked up an impressive victory at 189 lbs. Weaver won by technical fall, 18-1, over Grandview's Heleodoro Lopez.
Grandview then gave up a forfeit at 215 lbs.
Greyhound heavyweight Andrew Morales was solid in his 19-9 victory over Phillip Bennett.
The Wolfpack then gained a forfeit victory at 103 lbs.
Nestor Soriano was solid at 112 lbs. for the Greyhounds, defeating Kyle Ames in 2:42.
"Nestor continues to roll," said Sevigny.
Despite being ill the last couple of weeks, Grandview's Kaelan Nelson won a hard-fought match at 119 lbs. against Robert Espinzoa. The Greyhound freshman took the fall in 2:42.
Wapato's Lewis Vallardores won an 11-3 decision over Grandview's Max Saldana at 125 lbs.
Shay Seimears won by forfeit for the Greyhounds at 130 lbs.
Sammy Macias ended the night for the Wolfpack with a victory at 135 lbs. Macias, a State placer last year, beat Brian Naylor by technical fall, 19-4. Sevigny said Macias took advantage of the aggressive moves of Naylor to score most of his points.
The Greyhounds finished league at 1-6. Grandview will be taking three wrestlers to the junior varsity postseason qualifier in Wapato this Saturday.
. Mike Kantman can be contacted at (509) 837-4500, or email him at mkantman@eaglenewspapers.com