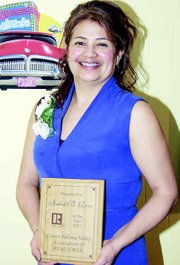 Prudential Valley Investment Property realtor Isabel Bedolla-Roos was honored last night at the Lower Yakima Valley Association of Realtor's banquet as Realtor of the Year.
This was the first time she has received the award in her 11-year career in real estate.
Roos is currently in her second three-year term on the Washington State Housing Finance Commission and she was the 2003 Lower Yakima Valley Association of Realtor's president. She is the chair of the Realtor Political Action Committee and serves on the Legislative Steering Committee. She is also the key contact for State Rep. Dan Newhouse.
She said that although some of her work deals with real estate issues at the state level, she is doing it as a representative of the Lower Valley.
Roos didn't expect to receive the distinguished award, but is honored to have been nominated and chosen.
Roos and fellow realtor Kenny Nelson of DK Bain were each honored with the Sterling R Award, which is reserved for those realtors who have donated $1,000 or more to the Realtor Political Action Committee, according to Ellen Iverson, executive officer for the Lower Yakima Valley Association of Realtors. She said the award has never been presented to a realtor in the local association before.
Other awards were presented at the banquet to Miguel Juarez of Juarez Realty for being 2003 past president for the Multiple Listing Service.
Julie Berger of Pacific Alliance Title in Yakima and Diane Schafer of First American Title Insurance were named co-affiliates of the year.
The Horizon Award, which is presented to a rookie with two years or less as a realtor, was presented to Jay Gardner of Kimbrough and Associates, who has been named the 2004 secretary/treasurer for the Lower Valley Association of Realtors. He also headed up the realtor's food drive this past holiday season.
The Community Service Award was presented to Jim Hancock of Chapman Lampson in Prosser.
The realtors chose to honor retired Sunnyside City Councilman Errol Brown last night as Citizen of the Year. Brown was honored for more than 20 years of service on the city council and serving the community in numerous ways, including serving as president of the Sunnyside Chamber of Commerce.
. Melissa Browning can be contacted at (509) 837-4500, or e-mail mbrowning@eaglenewspapers.com