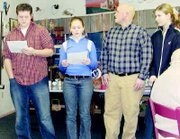 Three of the Sunnyside High School students who attended the national Community Anti Drug Coalition of America (CADCA) Conference in Washington D.C. last week spoke to the Sunnyside Kiwanis Club Thursday morning about their trip.
Seven students from Sunnyside High School attended the conference, which was funded though the Substance Abuse and Mental Health Administration and an ESD 105 Drug Free Commission Grant. The students' trip was sponsored by Sunnyside's Promise.
The students who attended the conference are members of Leaders In Action, Reducing Under Aged Drinking (RUAD) and local church youth groups, according to Emily Jones, one of the seven teens selected.
As a part of the conference, the students joined a group of 40 students who lobbied Sen. Patty Murray on drug and alcohol issues on Capitol Hill. As a part of "Capitol Hill Day" the students were taken on a tour of the U.S. Capitol and shown the underground tunnels and they rode on the Senate train. They also were given passes which allowed them into the Senate gallery.
As a part of the week-long conference, Sunnyside High School students Jilliann Stroh and Luke Spilles participated with 20 other students in a presentation to more than 2,000 adults. The presentation was entitled "What We Say that Adults Don't Hear."
The presentation used drama, power point and speakers to show adults that stereotypes of who uses drugs aren't always true.
According to Stroh, the presentation showed that every kind of kid, from jock to gangster, use drugs.
"Any kid can do drugs and any kid can not do drugs," said Stroh, who, due to the conferences, is considering a career in drug abuse prevention.
While on their trip the youths were able to take in a few of the sites in Washington D.C. One of the most impressive places for Stroh and Jones was the Holocaust Museum. Spilles was impressed by the Capitol building. The students said that meeting people from around the United States was also impressive.
While at the conference the youths accepted a national award from CADCA for the Leadership in Action program, which involved students at the high school taking voluntary drug tests. This year the group is starting a mentoring program in the elementary schools, since studies show that younger and younger students are being faced with drug and alcohol choices, said Jones.
The award was presented the week of President George W. Bush's State of the Union address, which mentioned the importance of drug testing in schools.
The teens who attended the conference were Stroh, Jones, Spilles, Mercedes Martinez, Andrea Phillips, Enrique Villa and Francisco Lozano.
. Melissa Browning can be contacted at (509) 837-4500, or e-mail mbrowning@eaglenewspapers.com