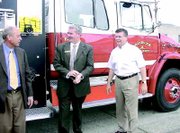 GRANDVIEW - A $100,000 grant from the United States Department of Agriculture (USDA) has helped the City of Grandview maintain its fire rating, as well as city residents' insurance premiums.
Grandview Fire Chief Charles Damron gave rides to local residents Wednesday morning on the city's new Class A pumper truck that was purchased by the city with the USDA grant.
According to Grandview Mayor Mike Bren, without the new truck insurance premiums were expected to increase by 10 percent.
Grandview residents voted down a levy that would have paid for the new pumper. So instead, city officials looked to grant funding to update their fire department fleet.
The truck, which replaces a 1965 Commercial pumper, is one of three Class A engines in service.
Grandview also has a 75-foot ladder truck. Damron explained that the ladder truck isn't for tall buildings, but rather for the numerous warehouses in the community.
The new pumper features a five-man cab, compared to the three people the old cab held. The new truck also has self-contained breathing apparatus built into four of the seats.
Damron said with the new truck his department can have the five people needed on-scene to initiate firefighting efforts to immediately enter a building.
He added that the truck will help with the 450 city calls and 200 county calls the small department responds to annually.
Grandview City Administrator Jim Sewell said that besides applying for the grant, the city contacted Congressman Doc Hastings to encourage funding for the truck.
"Doc was probably getting tired of us sending e-mails and calling," said Sewell.
"If we hadn't been able to this now, our fire rating would have gone up and it would have cost people more money," said Sewell.
Hastings worked with the City of Grandview and the USDA for more than a year on arranging the funding for the truck.
"The Grandview Fire Department works very hard to protect the local community," Hastings told those who attended yesterday's unveiling of the new pumper. "These funds will help the department upgrade its fire equipment and enhance its capabilities," said Hastings.
Also on hand for the introduction of the truck into the community was Jackie J. Gleason, Washington State Director for USDA Rural Development.
Gleason said that after Sept. 11, 2000, President George W. Bush said there was a need for more first responders.
"He said, 'We need to do more'," said Gleason.
The Bush administration added $500 million to the budget to help provide funding to fire departments across the United States.
"This is what government is supposed to do. We're supposed to be partners," said Gleason.