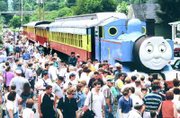 SNOQUALMIE - All aboard for Thomas the Tank Engine, as the classic storybook friend rolls into Snoqualmie for a "Day Out with Thomas."
The fun-filled family event offers pre-schoolers, children and adults the opportunity to take a 25-minute ride with Thomas the Tank Engine to the top of Snoqualmie Falls. Organizers said the trip is sure to engineer miles of smiles for every guest.
The special "Day Out with Thomas" is being hosted by the Northwest Railway Museum. Treks are scheduled for July 9-11 and July 16-18.
The event will feature a variety of Thomas & Friends-themed entertainment, including meeting and taking a photo with Sir Topham Hatt, storytelling and video viewing, temporary tattoos of Island of Sodor friends, live music by James the Puppeteer and a Thomas & Friends imagination station, featuring arts and crafts, toy trains and more. Also offered in Snoqualmie in mid-July is an inflatable, bouncy train, railway motorcar rides, an opportunity to sit in the engineer's seat in a locomotive, an interactive lifesaver display and a model railroad.
The 25-minute train ride to the top of Snoqualmie Falls will depart every 45 minutes, between 9 a.m. and 4:30 p.m. daily. Tickets for the "Day Out with Thomas" are priced at $14. Tickets are available by calling toll-free 1-866-468-7623.