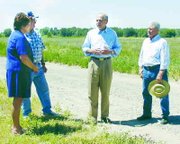 Standing on the dry earth that will, over the course of the next several years be transformed into a wetlands and riparian area, Sen. Doc Hastings (R-Pasco) yesterday announced the passage of the Energy and Water Appropriations Bill, which includes a $233,000 grant for the Port of Sunnyside's Yakima River Eco-System Restoration Project.
"I'm very pleased to make the announcement that it's now passed the House," Hastings said of the bill.
The money earmarked for the project will help fund the Army Corps of Engineers feasibility study, which was halted due to lack of funding.
Sunnyside Port District Manager Amber Hansen explained that the Yakima River Eco-System Restoration Project will include 221 acres of land that was recently purchased by the Port. The land will eventually be used to create a wetlands area that will use treated water from the Port's industrial wastewater treatment facility, which will be filtered through the ground and into the Yakima River. Hansen said the water will help improve flow in the river, which will in turn help sustain salmon habitats.
"This is a project that would help the Yakima River, its fish populations, wildlife and Sunnyside's economic future," Hastings said. "When the Port alerted me that the Army Corps was going to have to suspend their help on this effort, I sought funding to keep the feasibility study going next year. This is an example of common sense, local problem solving at its best and I want to help keep the Corps involved."
According to Hansen, the Port will be partnering with the Army Corps of Engineers and the City of Sunnyside on the project. She added that the Yakama Nation is also supportive of the wetland project because they have a similar project planned for the other side of the river.
Hastings said these partnerships are one reason he was successful in obtaining funding for the project.
"These partnerships really work," Hastings said.
According to the Port, it has been working with the Army Corps of Engineers since June 2002 and hopes to have the habitat designed and built over the next several years. Port officials are planning to be able to receive treated water from the industrial wastewater treatment facility at the wetlands area in late 2006-07.
Hansen explained that although it will be a wetlands area, there will not necessarily be ponds on the South Emerald Road property. She said the ground will be moist.
Hansen said one of the many steps that will have to be completed before the wetlands area can begin receiving treated water from the Port's facility will be the installation of three to three and half miles of line to transfer water to the site. She estimated that this could cost in the area of $3 million.