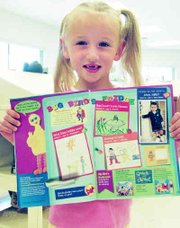 Sunnyside has a new, nationally recognized artist.
The latest of nationally recognized artists just happens to be 6-year-old Sunnyside resident Anikka Campbell.
Campbell's artwork is featured in the July edition of the "Sesame Street" magazine. Campbell's drawing can be seen on the first page of a section called Big Bird's Fridge. This monthly section showcases drawings sent in by children.
"They say they get quite a large volume (of drawings)," said Campbell's mom, Nancy.
The drawing Campbell submitted to "Sesame Street" was of her walking her dog, Molly, a golden lab, on a sunny day. Campbell submitted the drawing last fall to the magazine. Campbell said she drew the piece when she was interested in dogs. Now her love for drawing has turned to horses.
Nancy said her daughter has been drawing and coloring pictures since she was 4 years of age and considers herself pretty good at the skill. Campbell can be found drawing just about everywhere she goes. Campbell's mom said she always takes her drawing kits with her when traveling in the car.
Nancy said that her daughter likes to say she is good at a couple of things, those being drawing and running fast.
Nancy said her daughter was very surprised when she learned a few weeks ago that "Sesame Street" magazine was going to publish her drawing. Nancy said her daughter was also a bit embarrassed when she found out that her drawing was going to be in the magazine.
"She said she didn't want everyone to make a fuss about it," said Nancy.
Nancy said she is proud of her daughter's accomplishments by getting her drawing published in a national magazine.
"I think it is a good reinforcement for her," said Nancy. "She doesn't like a lot of attention."
The 6-year-old said she plans to continue drawing and might even submit some more pieces of her work to various magazines.
. Mike Kantman can be contacted at (509) 837-4500, or email him at mkantman@eaglenewspapers.com
Michael Kantman/Daily Sun News
Anikka Campbell is now a nationally recognized artist. Her work can be found on the opening page of a section called Big Bird's Fridge in this month's edition of the "Sesame Street" magazine.