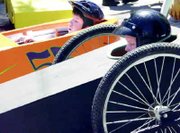 More than 60 cars and drivers showed up earl Saturday morning for the annual Sunnyside Parks and Recreation Soap Box Derby held as part of the community's annual Come Back to the Country Fourth of July celebration.
Held near Central Park, on Grant Avenue, the home-built cars lined up for three heats to collect times for first, second and third place honors.
The results of Saturday's races were unavailable for Monday's edition of the newspaper.
Rod Smith/Daily Sun News
Drivers Anthony Rodriguez (far left) and Kendra Hollmeyer (foreground) await their turn on the track.