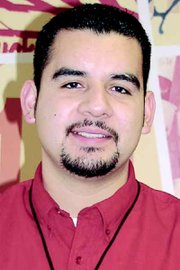 After proving himself to be a progressive, energetic businessman and community leader, Sunnyside's Alex de la Cruz has attracted the national attention of one of the country's most popular leading fast food chains.
As franchise owner of the KFC and A&W restaurant on Yakima Valley Highway in Sunnyside, the 21-year-old businessman finds himself being promoted to manage a KFC/A&W restaurant located in one of the fastest growing regions of the country.
The restaurateur announced Friday he will be accepting a promotion to manage a KFC/A&W franchise in Colorado Springs, Colo. effective immediately.
"I fly out Saturday for Colorado," de la Cruz said this morning (Monday). He said he knew his company, Harman Management of Los Altos, Calif., was considering him for the Colorado position for several weeks.
"They offered it to me this past Friday and I accepted," he explained.
"It's a great opportunity for me to advance within the company and to take part in the rapid growth in the Colorado market," said the young businessman, who has operated the Sunnyside KFC franchise for the past eight years.
He, along with his wife, Audrey, relocated their new and expanded restaurant on Yakima Valley Highway in October 2002, after managing the downtown KFC store for six years.
This past March, the couple was presented the Sunnyside Chamber of Commerce Outstanding Community Beautification Award.
In addition to turning his restaurant over to a new manager, he will also be resigning his seat on the Sunnyside City Council. de la Cruz, who was elected to the City Council in November 2003, informed Sunnyside city Mayor Ed Prilucik this past Friday of his decision to resign from the council.
de la Cruz said he would be informing his fellow council members of his resignation and will be submitting a letter to the council within the next couple of days.
"I have grown so much during my six months as a councilman. It has been a great privilege to serve the community as a councilman," he said. "It has been a very rewarding opportunity to serve the community from the council."
"We are losing an intelligent and enthusiastic member of our council," said Prilucik.
In the meantime, Prilucik said the he will begin accepting applications to replace the youngest city councilman, who is serving his first term.
"We're losing a great asset to our community, not just as a city leader, but as a progressive businessman," said Prilucik, who added that council has 30 days in which to appoint a replacement for de la Cruz.
"Whoever is selected to fill the now vacated position will be expected to stand for election in November to fill the remainder of de la Cruz's term," Prilucik explained.
Those interested are encouraged to pick up applications at the Sunnyside City Hall, 820 E. Edison Ave.
Tuesday night at 6 p.m., the family and friends of de la Cruz will hold a "going away" party at Sunnyside's Snipes Mountain Brewery and Restaurant. The public is welcome to attend and add its well wishes for the de la Cruz family.
??Julia Hart can be contacted at
(509) 837-4500, or you can e-mail her at jhart@eaglenewspapers.com
Daily Sun News photo
Sunnyside's Alex de la Cruz to leave Sunnyside to relocated to Colorado Springs, Colo.