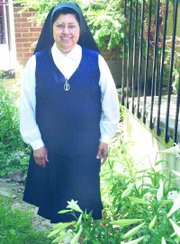 Sister Lucia Hinojosa first felt the call to a life of ministry as a fifth grader growing up in the small Texas community of Taft.
A nun with the Missionary Daughters of the Most Pure Virgin Mary, which has a convent at Sunnyside's St. Joseph Church, Hinojosa returned to Sunnyside about a year ago. This is her fourth round in Sunnyside, the first was in 1969.
"They usually let us stay three to five years before they transfer us," said Hinojosa. Transfers are based on where the needs are for different skills.
She has been to three of the five convents in the United States currently operated by her order. The order, which is focused on education, also has three convents in Peru and 45 in Mexico.
Before she was transferred back to Sunnyside, she was at a convent in New Jersey, where she taught kindergarten students.
Moving back to Sunnyside, where the private Catholic school had been closed, Hinojosa said she and the four other nuns at the local convent have been focusing on other aspects of education at the church.
"This is my first year in just pastoral ministry," said Hinojosa, who will be celebrating 44 years as a nun in August.
She has been teaching CCD religious classes and been speaking to adults and children alike at the church.
She said the local nuns participate in the church's food bank, a jail ministry, small church groups and they make visitations to shut-ins.
"We also help with retreats," she added.
"It's another ministry," she said. "I had always been in the classroom."
Out of the classroom for the first time since she became a nun, Hinojosa said she and some of her fellow nuns have found ways to keep in touch with kids.
"When I first learned I wasn't going to be teaching, I thought, man, I'm going to miss those kids, but God provided. He sent me to public school," said Hinojosa.
Since January she has been an elementary school substitute teacher in the Sunnyside School District.
Although dressed in "street clothes," she said youngsters from the school recognize her.
"They stop me in the hallway and say, 'you're the CCD lady'," said Hinojosa.
Hinojosa remembers, as a youngster, playing school with neighborhood children in the garage of her family's home. She said the neighborhood children would gather and she would always be the teacher. It was most likely something she and her sisters learned from their mother, who would teach the neighborhood children how to read.
"I love to teach," she said. "I think I was a born teacher."
The seventh of 16 children, Hinojosa said seven of the nine girls in her family are teachers.
At age 17, Hinojosa decided to become a nun. Moving to Mexico, where the order is headquartered, Hinojosa completed religious training before finishing her high school degree through correspondence. She went on to earn her Bachelor's degree in education from Texas A&M. She also holds a Master's degree.
During the summer months she takes continuing religious education in Mexico.
. Melissa Dekker can be contacted at (509) 837-4500, or e-mail mdekker@eaglenewspapers.com
Melissa Dekker/Daily Sun News
Sister Lucia Hinojosa has been a nun for nearly 44 years. A member of a teaching order, Hinojosa said she feels she is a natural teacher. Since the private Catholic school has closed in Sunnyside, she has been substituting in the public school district, as well as teaching religious education and supporting various church ministries.