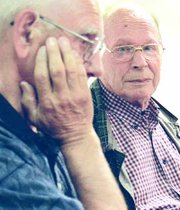 Sixty-one years ago Les Amundson of Sunnyside and Wietze Eizenga of Leiderdolp, Netherlands met in a hayloft.
This past week, Eizenga visited Amundson in Sunnyside. It has been about two years since the two last saw each other when Amundson returned to Netherlands to the field where his plane crashed nearly 61 years ago.
But the two had seen each other before. Eizenga, a doctorate of economics, who has taught at Harvard University, among other prestigious schools in the United States, has met with Amundson in the United States several times over the years.
The two have kept in contact since the end of World War II, which started when Amundson sent food and clothing, products that were in short supply after the end of the war, to Netherlands.
When they first met they didn't know much about each other. Amundson knew he needed help, and Eizenga was in the business of helping those hiding from the Nazis.
In hiding himself, Eizenga joined the Dutch underground forces in 1942.
Germany occupied Netherlands in 1940 and ruled the country banning anything that was anti-German, said Eizenga.
"In 1942 the Germans were looking for me," said Eizenga, explaining that all Dutch aged 15 to 45, were forced to work in Germany, because with the war workers were a scarcity.
Not wanting to work for the Nazis, Eizenga fled.
"If you did not go to Germany you were a criminal and had to hide," he said.
His father took him to Friesland where he hid in a barnyard. Ration cards were stolen for him and he was invited to join the underground forces, a sabotage group in Netherlands, which eventually became a part of the internal forces of the Dutch military in 1944 after the war was over.
Eizenga specialized in the portion of the organization that acquired weapons, ration cards, cars, bikes, whatever was needed by the members of his group.
"When our friends were in prison, we liberated them," said Eizenga, adding that his group had German and Dutch police uniforms.
"We did all kinds of things that God had forbidden," said Eizenga.
"I worked in a very special group," said Eizenga. "It was very small."
Eizenga had been in the countryside of Netherlands working the "drop fields" when he first met Amundson.
At the time there was an elaborate underground system to return officers to England and to the United States front against the Nazis. The underground went from Netherlands to Belgium, to Portugal to Spain back to England, said Eizenga.
"It was very difficult to go through the German-occupied countries," said Eizenga.
The B-17 bomber Amundson, an United States Air Force officer, was in had just been shot down and landed in the Dutch countryside.
"I told the crew, we might just as well scatter rather than all get caught together," said Amundson.
Amundson and his fellow crew members split up to hopefully avoid capture.
"I ran across a turnip field of some sort and the Dutchmen were waving me down," said Amundson.
Finding refuge in a hayloft, Amundson was visited by Eizenga in the middle of the night.
"He brought me food and clothes," Amundson remembers.
As a member of the Dutch underground forces, who worked on the drop fields of Netherlands Eizenga was in the area when Amundson's plane crashed. He went to where Amundson was hiding and questioned him before taking him further on the underground system.
Eizenga, who usually didn't help individuals on the underground route, was in a branch of the underground forces that focused on supplying resistance members.
"When I met Les our first problem was what to do with him."
Within a few days of the plane crash, the four officers were located and reunited. The other six members of the crew were taken in by local farmers and some were hidden for as long as six months, said Amundson.
Amundson and his fellow officers were on their way back to England when they were eventually captured, about a month after the plane crash.
The officers were in Amsterdam on Christmas Eve 1943 waiting for a vehicle to pick them up.
Amundson said they got off the train and what appeared to be a 1928 Dodge Victoria stopped to pick them up.
"We didn't know it when we got into that car; we were caught," said Amundson, adding that the Germans had infiltrated the Dutch underground.
They officers were taken to a room and soon German officers were pointing guns at them, letting them know they had been captured.
Amundson was taken to a work camp for military officers, where he stayed until the end of the war. He said when he arrived at the camp there were about 600 prisoners and there were almost 10,000 when he was freed.
"My main business was not taking care of pilots," said Eizenga. "I was in the group that was gathering the weapons that were parachuted into Netherlands."
His group also raided offices for ration cards and other supplies needed by the rebel group.
"We took care of everything that was needed," he said.
As Amundson was sent on his way by Eizenga, he couldn't make notes to stay in contact, so Amundson asked his helper to contact Amundson Hardware in Sunnyside, Washington after the war.
After Amundson returned home from the war, he shipped clothing and food to Eizenga to show his appreciation. Eizenga said the supplies were needed following the war.
"The Germans stripped Netherlands," said Eizenga. "There was even a clothes shortage."