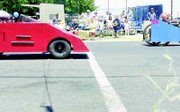 Grandview City Councilman Bill Flory won the annual Mayor's Challenge Cup during the 2004 soap box derby race held over the Fourth of July weekend.
Flory bested Sunnyside Mayor Ed Prilucik to take top honors in this past Saturday's race.
There were also four other divisions in the soap box derby on Saturday.
Robby Reid took top honors in the adult division. Pete Garza claimed runner-up honors and Jack Hollmeyer was third.
In the youth red division race, Michele Rae Williams claimed the top spot, followed by Michael Lubina and Drew Scheenstra rounding out the top three.
Vaunce Montelongo was the winner of the youth blue division. Rosa Garza took second place honors and Vincent Montelongo was third.
Earning the top spot in the youth green division was Kendra Hollmeyer. Hannah Vlieger took runner-up honors and Anthony Rodriguez rounded out the top three.