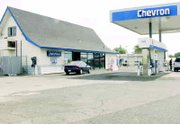 The fate of two Maid O'Clover convenience stores in the Lower Valley are in limbo.
The two stores, located in Sunnyside and Grandview, are part of a Yakima-based 19-store chain and are for sale, along with the 17 other small markets sprinkled across the Northwest.
The company was recently in bankruptcy court where the property titles were "cleaned up" so sale of the 19 stores could move forward.
A local businessman is already interested in two of the 19 sites, but the deal won't be completed until the end of the week.
The company filed for bankruptcy after Wells Fargo Bank defaulted on a $6.7 million dollar loan in 2001.
The company had originally taken out a $13 million loan for an expansion in Central Washington in 1995, but wasn't able to recoup the money for the loan.
About a year and a half ago Maid O'Clover filed for bankruptcy, according to Jeff Loudon, CEO of Maid O'Clover.
Loudon said he is also involved with pending litigation, in which he is sewing Chevron and Shell oil corporations in federal court.
He alleges the companies misrepresented themselves, which led him to believe an expansion was plausible.
Loudon said the Sunnyside and Grandview Maid O'Clover stores remain operational through the bankruptcy.
"We're still owning and operating them and they should be sold within the next week," he said.
Several people are purchasing the 19 Maid O'Clover stores, he said.
"I think they'll remain open," he added.