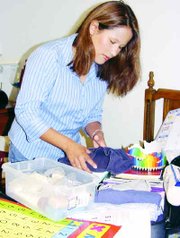 GRANDVIEW - Today marks Grandview resident Narlly Solano's first full day in Nicaragua. The 22-year-old Pasco elementary school teacher is in the Central American country serving as the new principal and administrator of a school that was built with help from Compassion In Action.
Solano, who left for Nicaragua yesterday (Wednesday), explained that Compassion in Action is an organization that was started several years after Hurricane Mitch hit the Central American country. Solano said when the hurricane hit the country her father gathered a group together to travel down there to help people rebuild their houses. After that initial visit, the group continued to visit Nicaragua every year to help with everything from building homes to helping people start their own businesses.
Solano said it was just two or three years ago that Compassion in Action was started as an organization to help oversee the group's annual visits, as well as to help fund some of the needs of the country and its citizens.
According to Solano, it was two years ago that Compassion in Action started building a school for the children in the town of Dario. She said there are currently 110 students, ages three to 18, who are attending classes in a one-room school house. She said in one corner, a teacher is working with 19 first graders while in another corner a teacher is working with 50 second, third and fourth graders. She said the three to six year old students are being taught in someone's living room.
Solano said the school built by Compassion in Action has five classrooms and a cafeteria with a kitchen. She said the school will go into use after she arrives and begins setting down ground rules, policies and procedures.
Solano said the need in Nicaragua for good education is great. She explained that the teachers, who are teaching the children, don't have college educations, in fact she said some of them have no more than a sixth grade education.
"My desire is to hire and train more teachers," Solano said, noting that she is also hoping to turn the now public school into a private Christian school.
She said she would like to make it a Christian school because public schools in Nicaragua are funded by the government, meaning that the government pays teachers' salaries and purchases supplies for the schools. However, she said the schools don't have the supplies they need.
"Students have no books," she said. "What we consider the essentials in the classroom here, these kids never see."
Solano said she would also like to use the school as a way to teach children the skills needed to lead a successful life in Nicaragua. She said she would like to be able to teach them things like how to farm, how to raise their own chickens and "...how to sustain themselves." Solano said with a 60 percent unemployment rate in Nicaragua skills like these are indispensable.
The trip to Nicaragua not only represents a dramatic change in Solano's life, but it also offers her a chance to go back to the country in which she was born.
Solano is originally from Nicaragua. She said she was 7-years old when her family moved to the United States.
"We were poor over there and God gave us an opportunity to come to the States," Solano said.
She said she has known since she arrived in the United States that she was destined to go back to Nicaragua.
Solano said the one concern she has about going to Nicaragua is that she is currently a resident of the United States and a citizen of Nicaragua. This means she will have to come back to the United States every six months to maintain her resident status.
When it comes to preparing for the trip Solano said she spent a lot of time talking to teachers, trying to set up policies for the new school and trying to create a curriculum.
Solano, who taught bilingual first grade in Pasco, said she has also been working on her Spanish. She explained that Nicaraguan Spanish is a little different than Mexican Spanish.
Solano said she was also sure to go shopping for light weight clothing, noting that temperatures regularly hit 120 degrees in Nicaragua.
Another change she will have to get used to is the Nicaraguan school calendar. She said students in the Central American country attend classes from February to November, then have the holidays off as their vacation. This means she will be starting her new position in the middle of the school year.
Solano said she will be in Nicaragua for at least three years. When asked how her parents, Abner and Nelly Solano, felt about her leaving the country to serve as a principal and administrator in another country, Solano said they've always known she was going to go back.
"They're excited though. They have a love for Nicaragua, too," she said.
Solano said Compassion in Action is still looking for people to help sponsor students at the school. She said $20 a month will provide a student with a good education, two school uniforms a year, a new pair of shoes, a nutritious meal five days a week and medical attention. Solano said she also encourages people to visit the country through Compassion in Action.
For more information on Compassion in Action or to learn about sponsoring a child or sending any extra school supplies to Nicaragua contact Rod and Karen Krueger at (253) 852-1594 or email them at rk_krueger@hotmail.com. Those interested in writing to Solano can email her at narllys@hotmail.com.