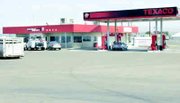 The end of next month will bring an end to Greyhound bus service in several Lower Valley locations. Effective August 18, Greyhound Lines Inc. will introduce a new route structure and schedule, which will mean buses will no longer stop in communities such as Grandview, Prosser, Toppenish, Wapato and Goldendale.
Despite the route changes that are coming to the Valley and the rest of the Northern United States, the Sunnyside bus stop will continue to operate as usual. Lydia Armstrong, manager of The Outpost, which serves as the Sunnyside Greyhound bus stop, said at this point she's not sure what effect the closure of the other local stops will have on Sunnyside.
"It's hard to say either way," she said.
With the elimination of the other Lower and Central Valley stops, Sunnyside becomes the only Greyhound bus stop between Yakima and the Tri-Cities.
Armstrong explained that several of the local stops being eliminated, including the stop in Grandview, are simply pick up points. She said the Sunnyside stop is a place where passengers can purchase tickets and begin their trips.
According to Armstrong, tickets can be purchased at The Outpost seven days a week from 8 a.m. to 8 p.m. She said tickets are sold from the Sunnyside location every day, noting that people getting their tickets are not only starting trips in town, but are also purchasing tickets to send to other people across the country.
Armstrong said Greyhound currently makes four stops a day in Sunnyside, at 6:30 a.m., 12:30 p.m., 3:30 p.m. and 10:45 p.m.
According to Greyhound Lines Inc., the scheduled route changes will allow the network to become more efficient and will mean faster service, fewer stops and improved on-time departures and arrivals for customers.