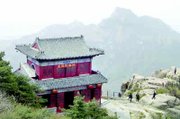 When Sunnyside's Howard and Ruth Rogers decided to make China the next destination on their list of countries to visit, they didn't know what to expect. Armed with stories of primitive accommodations, they were pleasantly surprised when they arrived in Beijing and found an "ultra-modern" city with all of the amenities.
"If you have any pre-conceptions of China, forget them," said Howard Rogers. "The old is coming down and the new is coming up. Everywhere you look they are building."
The couple learned of the historical tour in a travel magazine.
"China has always been a curiosity of ours," he said. "It was on the agenda of places we'd like to go and see."
Preparing for the 2008 Olympics to be held in Beijing, the city is seeing major expansion as it becomes tied into the world economy.
While on their tour, the Rogers were able to visit Tian'anmen Square and tour the Forbidden City where they were able to visit the 9,999-room palace that was once home to Chinese emperors. They also visited the summer palace of the dowager empress.
They were also able to visit the Great Wall of China, the Ming Tombs and the Temple of Heaven. They visited Beijing, Jinan, Taian, Qufu, Suzhou and Shanghai on their trip.
"It was everything we had hoped for and a lot more," said Rogers.