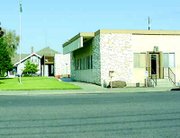 Starting in about a month, the Sunnyside City Hall will be closed every Friday.
The closing of city hall on Fridays was one of many issues discussed at the Sunnyside City Council retreat at Whistlin' Jack Lodge Thursday afternoon.
City Manager Bob Stockwell brought the idea before Council at the retreat.
Under the new format, Sunnyside City Hall will be open Monday through Thursday from 7:30 a.m. to 6 p.m. Stockwell said the change in city hall hours won't take effect for about a month so residents have enough time to be informed about the change.
Stockwell explained to Council that in the former community he used to work in, Provo, Utah, all city staff worked under a four-day week. Stockwell said the switch was made for a couple of reasons, one was to better facilitate the residents in town and another was the incentive of a three-day weekend for staff. Stockwell said the four-day work week also cut down on the amount of overtime Provo city employees were incurring.
"My experience with it is it has been very effective," said Stockwell.
Stockwell said he has noticed in the near three months he has been city manager that Fridays at city hall are sort of a slack day. Stockwell said he picked the time frame that city hall would be open because 7 a.m. is too early for anyone who might need help. He also said 6 p.m. is the right time to stay open to because people getting off of work can still make it to city hall in time.
The schedule is also flexible, said Stockwell. He said generally on Fridays such activities as building inspections dwindle for the week. But, Stockwell said, if a city employee did have to come in on a Friday that day they worked could be made up some where else.
The new city hall hours will not effect the staff at the police and fire departments, which already have similar work schedules in place. Stockwell said the administration staff at the police and fire department will fall under the new schedule for city hall.
Under the format, city hall staff will be give two 15-minute breaks and a 30-minute lunch break. Stockwell said employees will have the option of taking the breaks and lunch as a combined time.
Stockwell also touched on a plan he has to reconfigure the layout of city hall.
"There is a lot of poorly used space in city hall," said Stockwell.
Stockwell said he wants to look at building a drive-up window at city hall for residents to use.
Several councilmen were worried about access to city hall on a Friday to receive any documents they need. Council tossed around the idea of putting locked mail boxes outside city hall for each member.
Stockwell told Council he wants to make sure residents understand that the change in hours is actually a benefit to them. By city hall being open longer over four days, residents will have more access to city services. Stockwell said he wants to test out the new format for six months.
"Over that six months, we would like input from the citizens," said Stockwell.