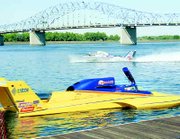 TRI-CITIES - Next weekend the shores of the Columbia River will be crowded, as fans gather to watch brightly painted unlimited hydroplane boats reach speeds of up to 200 miles per hour as they compete for top prizes at the annual Budweiser Columbia Cup.
The competition, which is set to take place July 23-25 in Columbia Park and along the Columbia River shoreline in Pasco, includes daily racing action, as well as a variety of other activities for young and old alike.
This year's Tri-City Water Follies event includes high speed racing action, vintage hydroplane demonstrations, super stock racing and an air show, as well as other activities.
Friday, July 23, gates open at 9 a.m. with unlimited testing and qualifying rounds taking place throughout the day. The vintage hydroplanes will also be testing and pit tours will be available. Friday includes a sidewalk art show by Allied Arts at Howard Amon Park in Richland, as well as the Carl's Jr. Dash for Cash Unlimited Shootout at 5 p.m.
Saturday the action will kick into high gear as the unlimited hydroplanes battle for the top spot. And racing action won't be limited to just the high-speed hydroplanes, the vintage hydroplanes will go out for a quick race around the river, as will the super stock boats.
Sunday will bring the weekend event to a close, beginning with the Water Follies church service, opening ceremonies and the drivers' parade. The day will conclude at 4:10 p.m. with the Budweiser Columbia Cup Championship Race.
Throughout the weekend there will be other activities and entertainment taking place along the river to keep everyone submersed in the fun. There will be a Wake Zone for children of all ages, as well as the LifeQuest Behemoths and Boats Strongman Competition.
In the strongman competition, people will compete in events ranging from a tire flip to a Coca-Cola truck pull, all in an attempt to win the $1,000 prize money.
The Water Follies will also include a little high speed action on land. Spectators can catch a glimpse of the Team Go-Ped stunt show and the BMX street park demonstration. These events will be taking place at the new Pit Stop area behind the pits in Columbia Park.
Also taking place throughout the weekend-long event will be aerial demonstrations over the river. The planes that will be buzzing overhead include an F/A-18 E/F Super Hornet and an Air Force A-10 Warthog. Spectators will also have a chance to witness low-level aerobatics by Steve Appleton's Hawker Hunter British fighter jet, as well as Greg Poe's Edge 540.
Entertaining people in the water will be the Host Marriott Pro Hydrofoil Tour. Hydrofoils are waterskis featuring a 28-inch foil on the bottom and a seat on top. Those in attendance can expect to see the hydrofoils get up to 20 feet out of the water at times.
Tickets for the event are available and range in price from $15 for a Saturday-only pass to $480 for a package that includes eight weekend tickets and reserved seats under umbrellas. For more information or to purchase tickets visit the Water Follies website at www.waterfollies.com or call toll-free 877-73-HYDRO.