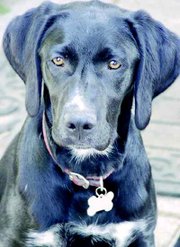 Riggs' Lucky Penny lived up to her name this past week.
Penny, as she is known to her owner David Riggs of Spokane, was found and returned to her owners Tuesday morning after she disappeared this past Saturday night from the Waneta Grange area.
The wire-haired dauchund disappeared Saturday night at about 9 p.m. while it was being taken out one last time for the night. Fireworks scared the small dog and it ran off, according to Riggs, who was on his way back from a family vacation with his wife and two sons when the dog disappeared. The animal was staying with his parents at their Sunnyside home.
Checking at a wedding reception at the nearby grange for anyone who had seen the dog, Riggs' family was unable to locate Penny.
Riggs said his family put up flyers and knocked on doors in search of their missing family member.
They went through the community of Mabton looking for anyone who may have seen their dog at the wedding and took it in, but were unable to find their animal, which was wearing a license and tags when it disappeared. Penny is also microchipped, Riggs added.
"We love our four children," said Riggs. "We have two girls, which are the dogs and two boys, which are our sons."
An ad was placed in the newspaper and on radio stations and Tuesday morning, nearly three full days after Penny disappeared, Riggs received a telephone call from a woman living on the Grandview Pavement.
"She said, 'I think your dog is underneath my van'," said Riggs.
The woman had received the newspaper and compared the picture in the advertisement to the dog that appeared on her property. It was a match.
Weekly between 20 and 25 dogs are reported missing in Sunnyside, according to Don Tanquary, Yakima County animal control officer. Many of the animals are not returned to their homes.
Tanquary said one of the best ways to insure a dog is returned to its home is to make sure the animal is licensed. That way if an animal is found it can be returned to the owners, he said.
"Eighty percent of dogs aren't licensed," said Tanquary. "If a dog is licensed then I can track down where it lives."
He said it is also important that the dog stays on the owner's property.
"The best way is to fence the yard or tie a dog up," said Tanquary.
Bringing an animal inside the home is also a way to protect it from leaving the owner's property or protecting it from being stolen.
"The problem is a lot of families purchase an animal that's too large for the home," said Tanquary.
Animal theft is a growing concern in the Lower Valley.
Riggs said when looking for his dog in Mabton, he was alarmed at the number of people living in the community who had faced similar situations.
Tanquary said that many of the smaller mixed breed dogs that are disappearing are being used for bait for fighting dogs. Purebred dogs that are thought to be of value are often sold or kept as pets, he said.
Purebred dogs are often stolen in the Lower Valley as are puppies, he added.
Microchipping is an option that pet owners can take that can insure an animal is returned if it becomes missing.
Tanquary said that every stray he picks up is scanned for a microchip before it is booked into the Central Washington Humane Society shelter in Yakima.
Local vets also scan strays that are brought to them.
According to C. Ann Ravine of Pet Health Clinic in Sunnyside, about 25 animals are microchipped at their office each year.
The universal microchipping can be scanned by animal control officers and other vets, she said.
Microchipping costs less than $60 at most clinics. Microchipping in Sunnyside costs between $32 and $52 per animal.
But as Riggs found out, locating a lost animal takes more than just implanting it with a microchip.
"My recommendation would be to have owner identification tag on the dog, as well as a dog license, and to keep good pictures on hand," said Riggs. "The lady who found her (Penny) recognized her from the picture."
He added that knowing a dog's distinguishing identifying marks is also important.
Riggs' dauchund is a wheat colored dog with a black tail, he said.
"But," he added, "It's still important to keep a close eye on your dog."
Tanquary said the dog's description, as well as the name the dog goes by, helps him identify and locate missing animals.
For those missing an animal, he added that putting food and water out for them may bring them home.
"We're very lucky that we got her back," said Riggs. "The Lucky part of her name really came through for her."
Riggs said he and his family are planning to take their dogs the next time they go on vacation.
"We'll make sure it's a dog friendly place," he added.