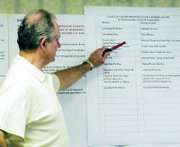 By 7:30 a.m. most mornings the halls of the Bienstar Transitional Housing center are quiet.
Most of the residents of the facility have already gotten up for the day, taken their young children to day care and headed to work.
It isn't until later in the evening that activities begin to pick up.
By 6 p.m. all six families have returned and are washing clothes, making dinner and preparing lunches for the next day.
From 7 to 8 p.m., after dinner is through and all the dishes are washed, it's family time.
"Residents are required to turn the T.V. off and spend time with their children," said Robert Matus, Bienstar program director.
Residents of the center read books to their children, play games and spend time with their families, he said.
Two more hours are allotted for television and other center activities before its time for lights out at 10 p.m.
Matus said the center is currently full with six families and 24 residents.
In operation for about a year and a half, Matus said they have already had 16 families graduate from the program into their own permanent housing.
Designed to help homeless families, Matus said that the definition of homeless in the Lower Valley is much different than that of a bigger city.
"In Los Angeles homeless means you live under a freeway bridge," said Matus. He explained that in the Lower Valley homeless are people living in overcrowded, unsanitary and unsafe living conditions.
"They may be living in a situation where there is domestic violence, drug abuse or alcohol abuse and don't have the means to get out," said Matus.
The only restrictions on those wanting to move into the facility is that they must have a child under 18 who is involved in an educational program and they must have a legal income from either wages or public assistance, he said. Each resident undergoes a Washington State Patrol background check.
Unfortunately, said Matus, many of the families don't qualify because they don't have children in school or they don't have a legal income.
He knows of several families that have approached Bienstar for assistance, but because they don't have a legal income they don't qualify for assistance.
"What we're looking for is families that truly need help," said Matus. "The program allows them to stay here up to six months."
He explained that some residents stay the full six months and other only need to stay one or two months.
"Sometimes they just need a break to get back on their feet," he said.
For those who don't have employment while living at the center, Matus said they are required to seek employment as part of their daily activities.
Matus said the residents are also provided skills as part of the program. They learn to manage finances and a checking or savings account and residents also learn computer skills.
The center recently received five new laptop computers, which are being used to train residents in basic computer programs.
Matus said the computers are providing the families with the latest in technology and showing them how they can apply technology to improve their lives.
Residents can take on-line classes to earn their GED, as well as classes for the SAT test, English classes and classes that will teach them computer programs.
Bienstar, which is the only transitional or supportive housing program in the Lower Valley, serving families from Wapato to Prosser, also provides families with spiritual counseling.
"We do not require that any of the residents to attend our church programs in Grandview," Matus said of the project, which is a part of the Salvation Army.
"We have success stories of families that came with marital problems, as well as homelessness and financial problems, who were able to straighten everything out," said Matus.
The families were able to move into their own home at the end of their time in the program.
Matus said Bienstar staff works closely with the housing authority and the apartments across the street from the center. They also work with New Life Villa in Mabton, which is a Catholic housing project.
"We work with them to get these families into section 8, which is subsidized housing, or low income housing," said Matus.
Some families choose to rent from local private landlords, he added.
"We require that in order for us to refund the money they have saved they have to bring us a contract from a local real estate agent or landlord," said Matus. "Then we send the money directly to the landlord. We just want to make sure they're not moving into some uncle's garage."
There are currently seven families on the waiting list to find refuge at the transitional center, but Matus said there are an estimated 1,200 families in the area who need the service.
"We've just scratched the surface," he said.