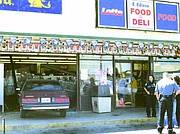 A car went crashing through the front window and into the East Edison Food and Deli, located at the corner of Edison Avenue and 16th Street, at about 2:30 p.m. Sunday afternoon.
According to Sunnyside Police Officer Jamie Prieto, 17-year-old Anna L. Aguilar was going to the market to get a calling card when she hit the gas pedal instead of the brake, launching her inside the store.
The clerk, who had just started her shift, said she was going about her duties when the car drove into the windows to the south of the main entrance.
The market remained open through the evening, despite the metal frame resting against the first row of groceries and the broken glass.
No one was injured in Aguilar's vehicle.
She was cited for second degree negligent driving and driving with no insurance.