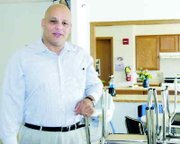 GRANDVIEW - Yakima Valley Fair and Rodeo organizers are seeking commercial vendors to display their products at the five-day Lower Valley event to be held Aug. 11 through 15, at the Wallace Way fairgrounds in Grandview.
Businesses wishing to rent space at the fairgrounds for the 77th Lower Valley fair, may call (509) 786-8250 or contact Mike Bradshaw his email address: mbradshaw@bentonrea.org.
Commercial booth space is available on a "first-come, first served" basis until July 15.
The fair opens Wednesday, Aug. 11, with a horse show and the first of two performances by the Wenatchee Youth Circus. In addition to a carnival and entertainment by on the country park stage, this year's fair includes two days of PRCA rodeo action beginning Friday night.