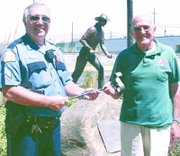 Sunnyside Police Sgt. Preston Kelley had just returned from vacation at the end of June when he saw that the statue of Ren Ferrell had been vandalized. The "S" on the end of the branding iron had been removed from the bronze.
"When I saw it in the paper, I though, sheesh, we'll never get that back," said Kelley.
But this past Sunday, when following up on a trespassing case in the Parkland Homes manufactured home court, Kelley came upon a the "S."
Kelley had been to the home earlier on Sunday to locate a local newspaper boy who had been cutting through a neighbor's yard to a local market. Unsuccessful, Kelley returned and it was on his return trip that he found the branding iron.
"There were bikes leaning against the porch," said Kelley. A piece of metal in the jumble of bicycles caught his eye. It was the missing branding iron.
Kelley questioned the 16-year-old boy, who told him that he and a buddy found the "S" when they were walking in Central Park.
"They said they found it on the pathway," said Kelley.
The city-owned statue, which is valued at about $50,000, will be repaired with the original branding iron.
Bill Flower, member of the Sunnyside Bronze Society, was having a branding iron made when the original was located. He called off the pouring of the new iron.
"I'm very shocked. I didn't think we would ever find it," said John Saras, President of the Sunnyside Museum Board, who received the branding iron from Kelley Monday morning.
Repairs to the statue are expected to be made within the next few weeks.