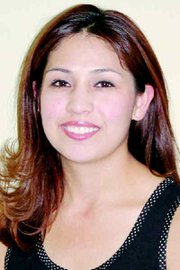 When Sunnyside native Cecelia Torres purchased a house from Prudential agents Dan Churchill and Isabel Bedolla-Roos, she knew she had found a field in which she was interested.
It didn't take Torres long to go from thinking about a career in real estate to becoming an agent. Torres has been working as an agent for Prudential for just a little more than a week.
Torres said she knew real estate would be a good career for her because it would give her a chance to create her own schedule, as well as work with the public.
Torres said watching Churchill and Bedolla-Roos sell her a house, she saw that they were always working with different people in the community and were able to make up their work schedules. She said the two agents were also really good to work with. Churchill and Bedolla-Roos were just recently honored as being the recipients of the Chairman Circle Gold Award from Prudential.
When it came time to actually get her foot in the door, Torres said she decided to go into the Prudential office and talk to Sandy Bos, owner and broker of Prudential Valley Investment Realty.
"I asked her how to get started," Torres said. "What I needed to do."
Torres said it was during the conversation that Bos told her if she pursued her realtor's license she would like to have her work out of the Prudential office in Sunnyside.
After talking to Bos in November 2003, Torres started taking the classes she needed for her realtor's license in January 2004. She completed them in April.
Torres said since starting at Prudential earlier this month she has been working to familiarize herself with the houses that are on the market. She said she has also been busy looking for listings, as well as trying to build a client list.
At this point, Torres said the most challenging part of her new job has been going out and trying to find listings. She said this often involves going out and visiting with people who are trying to sell their homes, themselves.
Torres said actually working in the office has also been a new experience. Torres, who took classes for her realtor's license on-line, said it's been nice to have some hands-on experience.