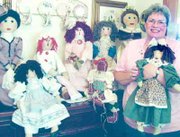 Deborah Clark believes you're never too old to have dolls.
Her Sunnyside home is filled with dolls she has made and dolls that were gifts from other crafters.
"I just love to hug them," said Clark.
She loves making and putting her own twists on dolls so much so that two years ago she started designing her own dolls and now sells patterns for her dolls.
"My husband, John, asked me if I was in my second childhood, so that's what I named my company," said Clark.
Her doll business is called My Second Childhood and patterns she designs are by My Second Childhood Creations.
"We should never grow up," said Clark with a chuckle.
Clark's interest in doll making started nearly 18 years ago when she went to a local store and saw a hand-made rag doll and decided to try making one.
"I started out with a Simplicity pattern and it took off from there," she said.
With most seamstresses in the Lower Valley and Washington, for that matter, not interested in making dolls, Clark has found it difficult to find patterns for her dolls. She said many doll makers live in the mid-west and on the East Cost.
The dolls Clark designs and makes are reminiscent of the old rag dolls.
A hundred or more years ago most people couldn't afford porcelain or glass dolls, but mothers would make rag dolls for their daughters to play with from materials from around the house.
Made with soft muslin bodies, some of the dolls are anything but the simple Raggedy Anns of yester-year.
Some have yarn hair and others have strips of brightly colored material. They all have clothes fashioned just for them, by Clark.
"I like big dolls. Ones you can put your arms around and you can hug," said Clark.
Without a good doll supplier in Washington, Clark said she improvises and finds materials for her dolls in everyday things.
"I saw a little bitty bag of flour at the grocery store yesterday and thought, I could use that," said Clark.
She looks for scraps of materials for accents and antique buttons for finishing touches.
"I have my own interpretation on the pattern," she said.
With all of the different kinds of dolls made by Clark, ranging from snowmen to bunnies, narrowing down a favorite is difficult.
"The Raggedys are my favorite," she said, but admitted that she loves them all, from the "prairie dolls" dressed in country clothing to the gingerbread dolls, which resemble gingerbread cookies.
She has recently started creating high fashioned cloth dolls, complete with purses and stoles.
"I like the old style dresses from the 1920s and earlier," she said.
After a few years Clark wasn't able to keep all of her baby dolls so she decided to sell some of them. She is involved in craft shows and ships dolls to Walnut Grove, Mo.
Clark's mother was a seamstress, which developed her interest in sewing.
"I've always liked to make things. I don't like to make clothes for myself," said Clark.
"I used to make my kids pajamas with the feet. That was fun for me because it wasn't anything for me."
As a child, Clark, a retired farmer, said she could never have made a doll.
"I always remember getting a new doll and how happy I would be when I got it," said Clark.
She remembers having a ballerina doll as a little girl.
"I used to carry it around by the hair," she said.
Another doll she remembers was a wealthy Lady doll that when flipped over would become a peasant girl. The Lady had blonde hair and the peasant girl was brunette.
"I always though that if you had blonde hair you were wealthy," said the brunette Clark. "I bought the pattern on E-bay and I'm going to make it right so the hair will be the same color on both."
As Clark grew older Barbies became the rage
"I still have the original Barbie," said Clark.
Even through college Clark would play with her Barbie dolls.
"I'd get upset and come home from college and I'd go downstairs and get out my Barbies and play," she said.
"I love dolls. I don't think dolls are childish. If a doll puts a smile on your face, aren't they worth it," said Clark.