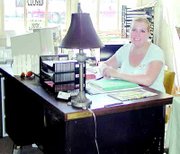 GRANDVIEW - For the past month the Grandview Chamber of Commerce and the organization's one employee, Karla Baker, have been getting used to some new surroundings. June 6, the Grandview Chamber of Commerce moved its office from the Budget Car and Truck Sales building on Stover Road to a space downtown.
The chamber's new location fills an empty office at the Grandview Herald building at 107 Division St. in downtown Grandview.
Baker said the chamber was only located at the car lot for eight months, noting that when they moved into the facility they knew it was a temporary location.
"We didn't know how long it was going to be, but it was temporary," Baker said.
Grandview Chamber of Commerce President Jim Herriman said when the opportunity to move to the Division Street location was brought to the chamber he knew it would be a good chance to give the organization more visibility and a link to the downtown community.
"It seemed to make very good sense," Herriman said. "The community connection, that's what it really offers."
However, before the chamber could move into the office space there was a little work that had to be done. When the chamber first looked at the space it was a pink room with a cement floor and a bathroom that didn't work.
Over the past few months, chamber members have donated their time and resources to helping upgrade the space. Baker said the walls were painted and texturized, new carpeting was installed and the bathroom fixtures were replaced. She said the Chamber has been working to "spiff up" the place, which included installing a new light fixture and hanging a door at the entrance to the office.
The Grandview Chamber of Commerce is open Monday, Tuesday and Thursday from 10 a.m. to 3 p.m. Baker noted that the chamber's new location will mean that people coming into the community will have greater access to the chamber's facilities. She explained that even when she is not in the office, because the chamber shares space with another business, people will still be able to access things like brochures and flyers.
Baker said the chamber office offers visitors informational brochures about the surrounding area, local event information and membership information.
Herriman said the chamber is planning on staying at its new location for some time.
"I think we've found a good partnership," he said.
The Grandview Chamber of Commerce office will host an open house at its new location, 107 Division St. in Grandview, Thursday, July 15, from 9 a.m. to 5 p.m.