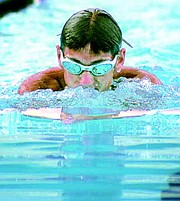 In what has to go down as one of the most lopsided victories ever in Mid-Valley Summer Swim League action, the Sunnyside Sharks dominated the Naches Barracudas last night, 624-182.
Tuesday evening's win boosted the record of the defending league champs to 6-2.
Sunnyside didn't yield a single point to the Barracudas in the relay events. The Sharks won all of the relay races, netting an 80-0 advantage in the points race.
All told last night, Sunnyside claimed 58 first place finishes. Naches was only able to come away with 16 victories.
Sunnyside's girls were especially impressive. They won 34 of the 37 races. The Lady Sharks also piled up 84 points via their second place finishes in the individual races, compared to just six runner-up finishes by Naches (24 points).
The heavy hitters for the Sunnyside girls included Toni Castillo (10&U), Kathleen Dolan (12&U), Katie Knee (14&U), Rachelle Durfey (16&U) and Emily Kresse (18&U). Together, the fivesome combined for 20 individual race victories. The Sharks also got three wins from Brittany Broersma (girls 8&U). Scoring one win apiece for the Sunnyside girls in the individual races were Marisa Broersma (10&U), Janelle Mendoza (14&U) and Anna Henry (18&U).
Last night's win over the Barracudas gave Sunnyside a sweep of Naches this season. In the two clubs' first meeting this season, at Naches, the Sharks prevailed by a 406-183 score. Last night's meet was staged in the Sharks' home pool.
Sunnyside's boys, like their female counterparts, also put on an impressive display last night. They scored 24 individual race victories, to just 13 wins notched by the Naches boys. The Sunnyside boys also outscored the Barracudas by a 92-16 margin in runner-up points, grabbing 23 second place finishes in the individual races to only four runner-up showings by Naches.
The top performer for the Sunnyside boys was mighty mite Tad Tyhuis. The 8&U swimmer swept all four of the races in his age division. His only real competition came from teammate Austin Garza, who placed second in all four races.
Sunnyside's boys were also well represented last night by Cristian Vargas (10&U) and Sam Bardell (14&U). Both of the Sharks scored three individual race victories, and both were on two winning relay squads.
Jacob Hollander (12&U) and David Knee (16&U) turned in splashy performances for Sunnyside, as well. Each of them picked up two individual race wins, two relay victories and two runner-up finishes.
Tim Stiteler (10&U) and Kasey Hursh (18&U) contributed too, scoring one individual race victory apiece for the Sunnyside boys. Both also swam on two winning relay teams, and combined for five runner-up finishes.
Naches' top performers last night included Luke Gillespie (boys 12&U), Troy Hausken (boys 16&U) and Greg Merrill (boys 18&U), each of whom nailed down three individual race victories. Chris Farnam (boys 14&U) scored two wins for the Barracudas. None of the Naches girls scored more than one win last night.
The Sharks are scheduled to compete against the Neptunes at the Grandview pool this coming Thursday. In their first meeting back on June 24, Sunnyside was victorious by a 551-278 score