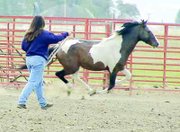 PROSSER - Rodeo has always been a way of life for Prosser resident Marnie Gibbs. Growing up she remembers helping her mother do the secretarial work for the events and said her father has been providing stock for rodeos for years.
"I've just grown up around rodeo and around the people," Gibbs said. "It really is a family [event]."
Several years ago Gibbs decided she wanted to create a place where families could come together and compete against one another. That is when she decided it was time to pursue the idea of creating her own rodeo arena.
"I know how good it is for kids," she said. "How good it is for the family unit."
She said taking part in rodeos attracts families because it's one sport where grandchildren can partner with their grandparents.
Gibbs said opening an arena is something she had discussed with her mother and grandmother, and when they both passed on she felt it was something she had to do on her own.
Before moving to the Lower Valley, Gibbs lived in Graham, Wa. She said her father noticed a 134-acre plot of land between Prosser and Grandview that he felt was ideal for a rodeo facility. He immediately called Gibbs and in October 2000 she purchased the Wilgus Road property.
Gibbs said it wasn't until nearly two years later, in April 2002, that she moved to her new home.
Since 2001 Gibbs has been working with Benton County to undergo the steps necessary to operate her rodeo facility.
Benton County Senior Planner Mike Shuttleworth said it was in 2001 that Gibbs applied for a special use permit for her property, which is zoned unclassified. He explained that the classification allows for residential and agricultural uses, as well as other uses that are approved through a special use permit. According to Shuttleworth, when Gibbs first applied for the special use permit it was for the construction of a 120-by-250-foot enclosed arena and a 32-space RV park. He said the special use permit was approved, however she was not supposed to operate the facility until she met the conditions of the permit.
Shuttleworth said the conditions placed on Gibbs are no different than the conditions the county places on any commercial facility. Some of the conditions he noted include paving the first eight feet of the driveway and having paved handicap parking spaces.
According to Shuttleworth, in 2003 Gibbs decided she wanted to create an outdoor arena instead, and applied to amend her special use permit. Again, he said, her special use permit was approved for one year and was subject to her meeting certain conditions.
Gibbs said the outdoor facility she constructed is a full service rodeo arena, that at 148-by-260-feet in size, is large enough to accommodate a variety of events.
Shuttleworth said the county sent a letter to Gibbs in April 2004, noting that they hadn't received any notice from her regarding the extension of her one year special use permit and wanted to know if she needed more time to come into compliance. Shuttleworth said Gibbs responded by submitting a letter to the county saying that she would like an extension.
Shuttleworth said it wasn't until May 2004, when both the Yakima Herald-Republic and the Prosser Record-Bulletin published articles on the new arena, that Benton County became aware that Gibbs was operating the All Ways Busy Arena.
Gibbs said since opening the arena in June 2003 there have been seven major and eight minor events held at the facility. She noted that the events range from Friday night rodeos to team penning competitions.
According to Shuttleworth, different county officials sent Gibbs three letters in June reminding her that the special use permit did not allow her to operate until certain conditions had been met.
Gibbs said Father's Day was when she held her last event at the arena, noting that she was fined more than $1,000 by the county.
"I didn't feel it should be this hard to own and operate a business," Gibbs said.
Shuttleworth said the citations were issued because Gibbs had received three letters from the county reminding her that she was not to be operating the facility.
Gibbs said because of the citations she was forced to cancel a junior rodeo event at the last minute. She said she still remembers calling all of the young participants to tell them that they wouldn't be able to come out to the arena and compete.
"It's like calling all of the kids and telling them they can't come over and play," Gibbs said.
Shuttleworth said over the course of the past few months the county has also issued a stop work order to Gibbs because she did not have a building permit to put in the bleachers she was installing at the facility. Gibbs explained that the bleachers she was using were portable bleachers.
"I said - why [is a permit needed] if they are portable?," Gibbs said.
She said the county officials then handed her a packet of information, which she said contained no information specific to bleachers.
Shuttleworth said after having been issued the citations Gibbs has been working with the county to meet the conditions of the special use permit.
"These are not outrageous conditions she's being asked to meet," Shuttleworth said.
He said a variety of entities are involved when it comes to getting the arena operational, including the health department, the Benton County Public Works Department, the Benton County Building Department and the fire marshal.
As of Monday afternoon, Shuttleworth said Gibbs had received approval for having proper handicapped parking spaces and therefore received permission from the county to conduct two events at the arena. Shuttleworth said permission was granted in combination with a two-event permit that was issued by the health department. The permit allows Gibbs to conduct two events using portable restroom facilities. He said she will then have to work with the health department to receive permission for additional events.
Gibbs said she plans on holding her first event this coming Friday. She said she plans on conducting a Friday night rodeo at All Ways Busy Arena beginning at 7 p.m. Gibbs said she is also planning on conducting a junior rodeo at the facility July 31 and Aug. 1. Any local children who are interested in participating can call Gibbs for more information about the event.
Gibbs said since the arena has been closed for nearly a month, organizing a Friday night rodeo has been tough.
"I'm having to start all over again," Gibbs said.