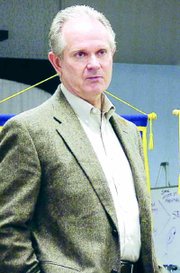 New Sunnyside City Manager Robert Stockwell spoke to members of the Sunnyside Kiwanis Club Thursday morning, discussing issues such as a shortened work week for city employees to the ambulance service.
Stockwell, who started his career in public service in the area of law enforcement, said he sees his role as one of leadership, helping the city staff understand their role in the community. Since moving to Sunnyside two months ago he has repeatedly heard employees say, "It's not their job," when asked questions by citizens.
"It's not their job is not an acceptable response," said Stockwell.
He said that successful business people know that customers are not always right, but they do deserve an answer. He said employees shouldn't be afraid to tell citizens "no."
Starting next month, the city employees, from district court to the water and sewer departments, will be moving to a four-day work week, in which city offices will be open from 7:30 a.m. to 6 p.m. Monday through Thursday to better serve the community, said Stockwell.
He said that going to a shorter work week, but extending the hours the city offices are open, will give customers time before they have to be at work or after they get off of work, time to do business with the city.
"We've monitored Fridays and actually found that they are a slow day," said Stockwell, adding that even contractors working with the building department are often not working on Fridays, so they don't need inspections or permits.
"It's a nice benefit to employees and an excellent recruitment tool," said Stockwell.
Stockwell also addressed concerns of privatizing the ambulance service.
He said the local ambulance service through the Sunnyside Fire Department has excellent response time, but is also very expensive.
Recently, the Supreme Court eliminated the $3 a month fee assessed to homeowners for ambulance services. Stockwell said an effort is being made to reinstate the fee.
He said the city is also looking at restructuring the fee for the ambulance. He said the city is currently only charging about one-half of what Medicare will reimburse, adding that about 80 percent of the local ambulance calls are reimbursable by Medicare.
Stockwell said that ambulance service, whether publicly or privately run, is subsidized. He said subsidizing private ambulance service is the profit those companies make in their business.
One of Stockwell's concerns with privatizing the ambulance service is a lower level of service.
He said if the ambulance service is privatized he would like to see a trained paramedic stationed in Sunnyside, as well as an ambulance.
"If that can't happen then we'll keep the ambulance service we have," he said.
Also in the delicate balance is the Sunnyside Fire Department and fire rating.
"Basically, what we have is an EMS that puts out fires," said Stockwell.
Without the ambulance service the number of firefighters would decrease, which could put the city in a different fire rating bracket.
He said he doesn't want to go away from what the city is currently doing if it will hurt the fire rating.
Besides the possibility of privatizing the ambulance service, the city will also be looking at privatizing the operation of the water and wastewater system. Private companies will be bidding against the city in the process, he added.