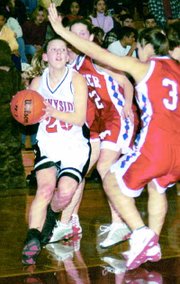 Carly Syverson was a sensation on the hardwood for the Sunnyside High School girls basketball team. Now the 2001 local graduate is taking her game to the floor of Carroll College in Helena, Mont.
Syverson, 21, will be playing this fall for the Carroll College women's basketball team, a National Association of Intercollegiate Athletics (NAIA) Division I college playing in the Frontier League.
The Saints went 28-7 last season and advanced to the NAIA national tournament for the first time, losing in the first round.
Syverson is one of five new recruits who will be playing at Carroll College this fall.
After graduating from Sunnyside, Syverson attended Big Bend Community College, which won the NWAACC championship during her lone year at the Moses Lake school. After winning the community college women's basketball crown, Syverson transferred to Spokane Falls Community College, where she red shirted for one year. Syverson played last year at Spokane, where the 5'8" point guard was named second team all-conference, averaging 12 points, 5.6 assists and 3.1 rebounds per game.
"It was a really good experience," said Syverson of her time in Spokane.
Someone must have liked what they saw in Syverson because as soon as the season was over, the Sunnyside grad and her friend, Katie Rodgers, were recruited by scouts to attend Carroll College.
"They just happened to call us," said Syverson.
Syverson said she went to Montana with Rodgers and another friend to look at the college.
"We just really had a good time," she added.
Rodgers will be joining Syverson at the Montana college next season. Rodgers is the second all-time leading scorer at Spokane Falls Community College, racking up 906 points during her two-year career.
Syverson was offered a two-year all expense paid scholarship at Carroll College, where she plans to study business.
Syverson said she has been very impressed with the college and especially the coaching staff.
Right now, Syverson has been attending camps at the college and going through a series of workouts. Syverson will be returning to Montana for the coming school year on Aug. 19. Pre-season action will start in October.