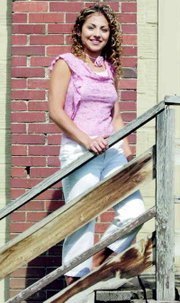 Basketball has become a passion for her, but Miss Sunnyside candidate Vanessa Alvarez wants to jump through some new hoops.
Alvarez is one of eight young Sunnyside ladies vying for the title of Miss Sunnyside. This year's Miss Sunnyside pageant will be held Saturday, Sept. 18, at Sunnyside High School.
Alvarez, 17, will be a senior this fall at Sunnyside High School. She is the daughter of Catalina Espindola of Sunnyside and Alejandro Alvarez Jr. of Prosser. Alvarez is being sponsored by Catalina's Hair Care and Audel's Fashion and Music store.
One of the reasons why Alvarez decided to run for Miss Sunnyside was because she wants to become more involved with the community. She also wants to be a role model for the younger children in Sunnyside and feels representing the community on the Miss Sunnyside court would be a good step.
"I know a lot of kids look up to Miss Sunnyside," said Alvarez. "We need to have good role models."
Alvarez also admitted she felt running for Miss Sunnyside would be a fun experience that she will remember for years to come.
At school, Alvarez is involved in a slew of activities. She will be the Associated Student Body (ASB) president her senior year. Alvarez was the previous ASB business manager. She is also involved with several different school organizations, including the Link Crew, Honor Society and Leaders in Action. One of her favorite school activities is the Interhigh Program. It involves a group of students visiting other schools in the area to learn more about what is going on.
Basketball has also become another passion for Alvarez. Alvarez, who also plays volleyball, has been playing hoops since she was in the third grade. But she lost her desire for the sport until this past winter, when Lady Grizzly head coach Leo Gomez rekindled her love for the game. Alvarez said she likes basketball because it is a team sport.
"But it has a lot to do with your mentality," said Alvarez. "The game is 90 percent mental."
Alvarez said Gomez helped her overcome her doubts about her ability to play the game.
When she has spare time, Alvarez loves to be involved with her family, who are strung up and down the Lower Valley.
"Family in general takes up a lot of my time," said Alvarez. "I am really close with my family. Spending time with my family is important to me."
After high school, Alvarez has plans to attend a four-year university in California to study international business.
Alvarez said it has been a goal of her's to be more involved with the community.
"I love being involved with stuff," said Alvarez. "I think (running for Miss Sunnyside) will get me involved with Sunnyside."
Sunnyside is a unique place, said Alvarez. Alvarez said she was homesick for the community after taking a three-week vacation.
"I got so homesick," said Alvarez. "The atmosphere here is so nice. You know people around here. It just feels like home."
Alvarez feels what makes Sunnyside stand out is its rich agricultural history. She said the small town atmosphere combined with the agricultural backdrop helps attract people to the area.
"I love just driving in the country," said Alvarez. "I wouldn't like to see Sunnyside be a big city."
One of the issues facing the community, feels Alvarez, is finding something teens can do.
"That is why you constantly have your alcohol problems around here," said Alvarez. "It is kind of boring for high schoolers."
Besides trying to promote more activities for teens to be involved with, Alvarez would like be involved with the Locks for Love program, which she singled out as her community service project on the Miss Sunnyside court. Locks for Love is an organization that takes people's donations of hair and makes wigs, usually for terminally ill patients. Alvarez said she also plans to take great pride in the community float the Miss Sunnyside court rides on at different parades.
I want to keep the winning float tradition going," smiled Alvarez.
Alvarez, who describes herself as a friendly, outgoing, determined young lady, is looking forward to the Miss Sunnyside pageant and the opportunity to serve on the court.
"I would be very honored if I was crowned Miss Sunnyside," said Alvarez. "If I am crowned Miss Sunnyside, hopefully I can give back to the community."